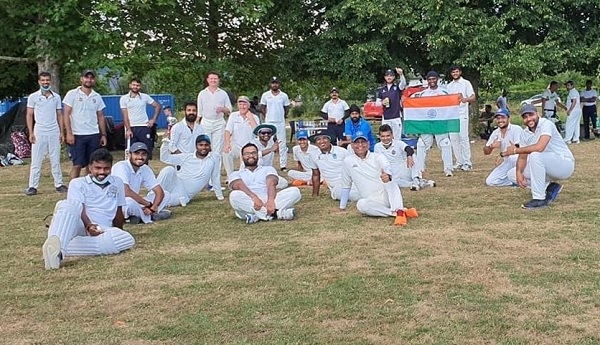 On Saturday 15 August 2020, the Feast of the Assumption bank holiday in Luxembourg and also Independence Day in India, the Pierre Werner sports ground in Walferdange hostel the annual Lagaan Cup, a cricket match between the Optimists Cricket Club (OCC) and the Indian Association Luxembourg (IAL).
This annual celebration by the Indian community in Luxembourg saw a fine day of cricket being played in glorious sunshine, with both a social match being played as well as a senior game, both according to 20-overs formats.
The Indian Association were put into bat first and got off to a flying start with 84 runs on the scoreboard with with the loss of 2 wickets. They then extended the runs on the board with another 71 runs without loss of another wicket, to 135 for 2 after 16 overs, and ended up with a total of 176 for 5 after 20 overs. Two players managed half-centuries, with opener Anshuman Bhadauria retiring on 50 not out, and Anoop Simha top-scoring on 54 (including 5 fours and 3 sixes). None of the OCC bowlers managed to take more than one wicket each, but Pankaj Malav had the best bowling figures of 4.33, conceding just 13 runs in his allocated 3 overs, with one wicket.
The Optimists Cricket Club then went in to bat and put on 38 runs in the first 5 overs for the loss of 2 wickets. They managed to get up to 66 for 3, but their lower order were no match for the IAL's bowling attack and limped to 99 for 9 in 15 overs, before putting on 27 for their last wicket to end up 126 all out (19.4 overs). Praveen Muthumanickam top-scored with 30 runs (including 4 fours and 1 six), with three IAL bowlers picking up two wickets each, with both MD Dilshad and Ansh Trivedi both conceding just 14 runs each for an average of 4.67 runs.
The IAL retained the Lagaan Cup which was presented at the end of the game; they won it last year (2019) after wrestling it back from the OCC after their win in 2018.