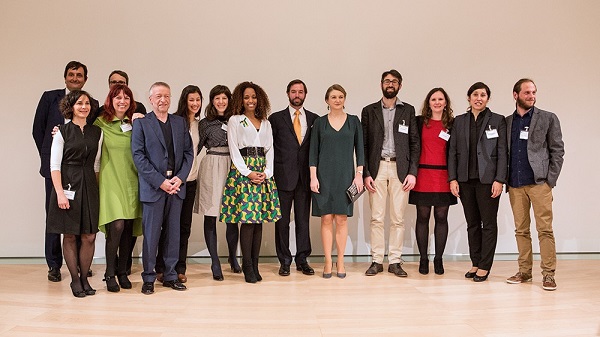 The 4th edition on the 1,2,3 Go Social event was held at the Banque de Luxembourg on Tuesday evening in the presence of the Hereditary Grand Duke Guillaume and Hereditary Grand Duchess Stephanie, and fosuces on 9 projects.
Representatives of the 9 projects made presentations to the audience which contained potential investors.
Hybrid business models to serve the public interest
Under the sign of the collective commitment for sustainable development, the evening was compered by Hedda Pahlson-Moller, business angel and social impact specialist; she introduced the passionate entrepreneurs who put economic efficiency in serving the public interest. The past few years have seen the development of hybrid business models to address major societal challenges, either social or environmental. These entrepreneurs consider that profit is a means and not an end in itself and seek to reconcile solidarity and private initiative, entrepreneurial spirit and the desire to make the human economy more inclusive and sustainable.
Nicolas Buck, President of nyuko, insisted that beyond financial support, non-financial support is a crucial success factor for social enterprises and a powerful lever for more impact: "Although the social sector is very active in Luxembourg, it is now imperative that the private sector, policy makers, entrepreneurs and citizens are committed to the needs of society and utilise their talents, experience and expertise. Tonight, we appeal to all entrepreneurs. There are many ways to engage in a more inclusive society and for sustainable development: investing in socially innovative companies as well as by accompanying them with kindness (advice, expertise), buying their products and services or opening its sales networks."
For the 2106 edition of the 1,2,3, Go Social, nyuko appeal to everyone - citizens, beginners or experienced entrepreneurs - who want to commit to a more just society and sustainable development. For more information on the 2016 edition of 1,2,3, Go Social, or to register your business with social impact project, see www.nyuko.lu on how to commit to a more just society and sustainable development and become a social entrepreneur.
The 9 social enterprises included:
- Habitat Groupé Senior: ecological housing designed for the elderly
- EIS Epicerie: solidarity grocery area open to all
- OUNI: non-packaging Grocery offering organic, local and fair produce
- Hopways: collaborative platform for optimisation of trips
- Suite Couture:socio-professional integration through sewing
- Ad-Hoc: Creating cooperative dwellings
- Responsible and delighted R&D: matchmaking agency and events organisation with companies in social and/or environmental impact
- PartiCité: Platform for citizens and public authorities to increase citizen participation in local, regional and national politics
- Öko-Konzept atelier: participatory and eco-friendly creation of everyday objects in collaboration with artists and designers