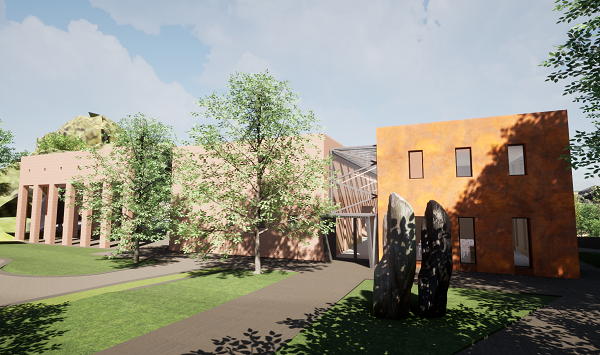 Credit: Crématorium de Luxembourg
The Luxembourg Crematorium in Luxembourg-Hamm recently presented its upcoming renovation and expansion project.
About 70% of dead people were cremated in Luxembourg in 2021. To meet this growing demand, the Luxembourg Crematorium has embarked on a renovation and expansion project together with Perry Weber and Associates architectural firm. The total budget for this project is approximately €10.5 million.
Currently equipped with two cremation furnaces, the Luxembourg Crematorium also has a waiting room, a ceremony room with 100 seats and two "Gardens of Remembrance" for the scattering of ashes.
On average, the Luxembourg Crematorium cremates twelve people per day, or 60 per week. As part of this project, the first furnace was already replaced in 2018 and the second furnace will be replaced by the end of the year, thus increasing the cremation capacity from 60 to 75 people per week. If necessary, additional capacities could be added by adjusting working hours. According to the crematorium, the new modern furnaces, which are larger and more powerful, also meet technical and environmental requirements and can accommodate individuals weighing up to 350 kg.
In addition to cremations, the Luxembourg Crematorium has performed 958 scatterings and organised 720 ceremonies, which has reportedly led to a lack of space. To remedy this situation, an additional space will be added for ceremonies and farewells, allowing the possibility to organise up to three simultaneous ceremonies if necessary.
The extension project of the Luxembourg Crematorium includes the construction of a new building connected to the existing structure by a glass volume, facilitating access to the two scattering zones located on the ground floor and level 2. This work will also bring about a change in the appearance of the existing building, aiming to improve accessibility and functionality of the site while modernising its appearance.
The work will be carried out in several phases, which may affect access to certain services. The preparatory work phase ran from February to June 2023, with the building extension phase set to take place between August 2023 and December 2024. The construction site installation is foreseen for September 2023, whilst construction of the main structure will take place between October 2023 and July 2024. Technical installations and completion are planned for June to November 2024. The planned commissioning is December 2024; modification work is expected to run from April 2024 to February 2025.
During this construction period, the Luxembourg Crematorium plans to take measures to minimise disruptions and to offer alternatives to ensure dignified and respectful funeral services and ceremonies.
The Luxembourg Crematorium is a public funeral establishment located in Luxembourg-Hamm and managed by the intermunicipal union SICEC.