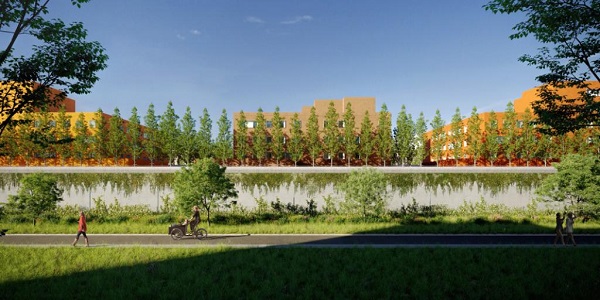 the new jail at Antwerp; Credit: Jan de Nul
Jan De Nul NV and EEG, together with the design team, will be building the new jail in Antwerp: this renovation project is part of the Belgium government's masterplan whereby detention and internment in humane conditions are provided for.
The new correctional facility in Antwerp will replace the existing obsolete Begijnenstraat jail after handover early 2025.
The new penitentiary will offer space for 440 detainees, divided into one unit for 330 men, one unit for 66 women and one care unit, including a psychiatric ward for 44 persons. The construction of the jail is a public-private partnership where the government partners up with private companies to realise the project. The Hortus Conclusus consortium takes care of the design, construction, funding and maintenance of the new jail. Construction will start in 2022 and will be completed early 2025.
Kristien De Vries, project manager at Jan De Nul NV, stated "This is a huge institution covering about 40,000 m², a beautiful civil engineering project. The philosophy behind the project too, i.e. aiming for cooperation and a positive team spirit, is very dear to us."
Masterplan of the federal government
The construction of this new jail is a part of the Detention and Internment in Humane Conditions masterplan. This plan aims at the renovation, expansion and new build of correctional facilities in Belgium.
About the Hortus Conclusus Consortium
The consortium consists of partners Jan De Nul NV and EEG in cooperation with design team Hootsmans architects firm, Arch & Teco, Bureau Bas Smets landscape architects, Ingenium, Defonseca and Envisan.