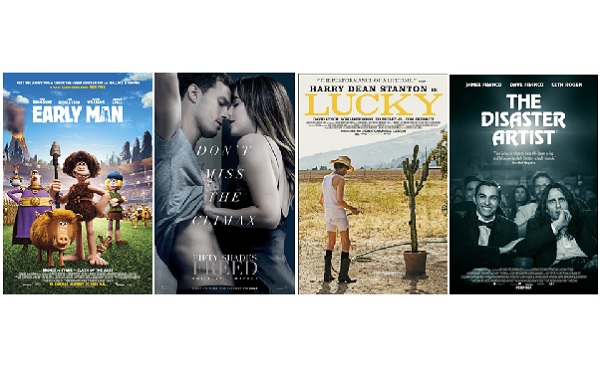 From this Wednesday 7 February 2018, Kinepolis Luxembourg will be showing the following film at its cinemas in Luxembourg, including Kinepolis Kircherg, Kinepolis Belval and Ciné Utopia.

- Fifty Shades Freed (romantic drama), directed by James Foley and starring Dakota Johnson, Jamie Dornan, Arielle Kebbel. Synopsis: Believing they have left behind shadowy figures from their past, newlyweds Christian and Ana fully embrace an inextricable connection and shared life of luxury. But just as she steps into her role as Mrs. Grey and he relaxes into an unfamiliar stability, new threats could jeopardise their happy ending before it even begins. At Kinepolis-Belval, Kinepolis-Kirchberg.
- Early Man (animated adventure), directed by Nick Park and starring (the voices of) Tom Hiddleston, Maisie Williams, Eddie Redmayne. Synopsis: Set at the dawn of time, when prehistoric creatures and woolly mammoths roamed the earth, Early Man tells the story of Dug, along with sidekick Hognob as they unite his tribe against a mighty enemy Lord Nooth and his Bronze Age City to save their home. At Kinepolis-Kirchberg.
- The Disaster Artist (comedy drama), directed by James Franco and starring James Franco, Dave Franco, Ari Graynor. Synopsis: When Greg Sestero, an aspiring film actor, meets the weird and mysterious Tommy Wiseau in an acting class, they form a unique friendship and travel to Hollywood to make their dreams come true. At Kinepolis-Kirchberg.
- Lucky (comedy drama), directed by John Carroll Lynch and starring Harry Dean Stanton, David Lynch, Ron Livingston. Synopsis: Lucky is an old US Navy veteran of rigid habits and attitudes in a small town. When his routine is interrupted by a sudden collapse at home, Lucky finds himself realising that his remarkably healthy old age is going to face an inevitable decline and he has to accept it. In that difficult reassessment, Lucky must face up to what he believes in and how much it compares to his neighbors' priorities. In doing so, Lucky finds that his life has its positive side as he searches for some meaning that he can accept. At Ciné Utopia.
Next week, i.e. from Wednesday 14 February 2018, the following films are scheduled for release:
- Black Panther (action, adventure), directed by Ryan Coogler and starring Chadwick Boseman, Michael B. Jordan, Lupita Nyong'o. Synopsis: T'Challa, after the death of his father, the King of Wakanda, returns home to the isolated, technologically advanced African nation to succeed to the throne and take his rightful place as king. At Kinepolis Kircherg, Kinepolis Belval.
- 12 Strong (action, drama), diretced by Nicolai Fuglsig and starring Chris Hemsworth, Michael Shannon, Michael Peña. Synopsis: 12 Strong tells the story of the first Special Forces team deployed to Afghanistan after 9/11; under the leadership of a new captain, the team must work with an Afghan warlord to take down for the Taliban. At Kinepolis Kircherg, Kinepolis Belval.
- Phantom Thread (drama), directed by Paul Thomas Anderson and starring Vicky Krieps, Daniel Day-Lewis, Lesley Manville. Synopsis: Set in 1950's London, Reynolds Woodcock is a renowned dressmaker whose fastidious life is disrupted by a young, strong-willed woman, Alma, who becomes his muse and lover. At Kinepolis-Kirchberg, Ciné Utopia.
- Call Me By Your Name (romantic drama), directed by Luca Guadagnino and starring Armie Hammer, Timothée Chalamet, Michael Stuhlbarg. Synopsis: In Northern Italy in 1983, seventeen year-old Elio begins a relationship with visiting Oliver, his father's research assistant, with whom he bonds over his emerging sexuality, their Jewish heritage, and the beguiling Italian landscape. At Ciné Utopia.