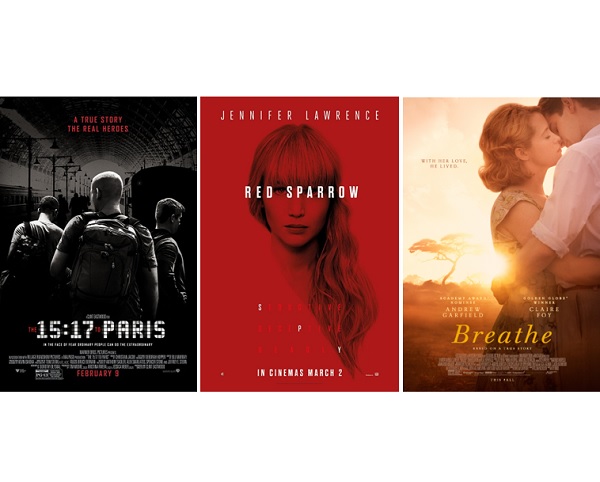 From this Wednesday 28 February 2018, Kinepolis Luxembourg will be showing the following film at its cinemas in Luxembourg, including Kinepolis Kircherg, Kinepolis Belval and Ciné Utopia.
- Red Sparrow (thriller), directed by Francis Lawrence and starring Jennifer Lawrence, Joel Edgerton, Matthias Schoenaerts, Charlotte Rampling. Synopsis: Ballerina Dominika Egorova is recruited to 'Sparrow School,' a Russian intelligence service where she is forced to use her body as a weapon. Her first mission, targeting a C.I.A. agent, threatens to unravel the security of both nations. At Kinepolis Kircherg, Kinepolis Belval.
- The 15:17 to Paris (thriller), directed by Clint Eastwood and starring Alek Skarlatos, Anthony Sadler, Spencer Stone. Synopsis: In the early evening of August 21, 2015, the world watched in stunned silence as the media reported a thwarted terrorist attack on Thalys train #9364 bound for Paris--an attempt prevented by three courageous young Americans traveling through Europe. The film follows the course of the friends' lives, from the struggles of childhood through finding their footing in life, to the series of unlikely events leading up to the attack. Throughout the harrowing ordeal, their friendship never wavers, making it their greatest weapon and allowing them to save the lives of the more than 500 passengers on board. At Kinepolis Kircherg.
- Breathe (drama), directed by Andy Serkis and starring Andrew Garfield, Claire Foy, Hugh Bonneville. Synopsis: When Robin is struck down by polio at the age of 28, he is confined to a hospital bed and given only a few months to live. With the help of Diana's twin brothers (Tom Hollander) and the groundbreaking ideas of inventor Teddy Hall (Hugh Bonneville), Robin and Diana dare to escape the hospital ward to seek out a full and passionate life together - raising their young son, traveling and devoting their lives to helping other polio patients. At Ciné Utopia.
Next week, i.e. from Wednesday 7 March 2018, the following films are scheduled for release:
- Strangers: Prey at Night (horror), directed by Johannes Roberts and starring Christina Hendricks, Bailee Madison, Martin Henderson. Synopsis: A family's road trip takes a dangerous turn when they arrive at a secluded mobile home park to stay with some relatives and find it mysteriously deserted. Under the cover of darkness, three masked psychopaths pay them a visit to test the family's every limit as they struggle to survive. At Kinepolis Kircherg, Kinepolis Belval.
- Radiance / Vers la Lumiere (drama, romance; in Japanese), directed by Naomi Kawase and starring Masatoshi Nagase, Ayame Misaki, Tatsuya Fuji. Synopsis: A passionate writer of film versions for the visually impaired meets an older photographer who is slowly losing his eyesight. At Ciné Utopia.​