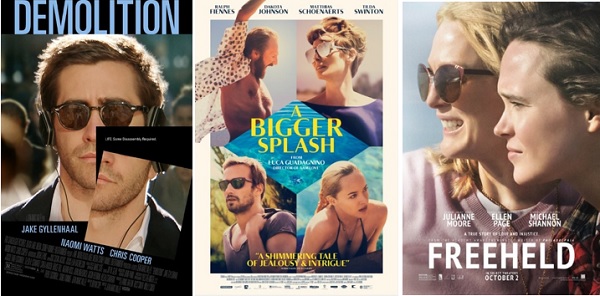 Utopia SA will be screening the following new releases from Wednesday 6 April 2016:
- A Bigger Splash (crime drama, 124 mins, 12+, in English), at Ciné-Utopia from Wed 6 April 2016.
Directed by Luca Guadagnino (I Am Love; Melissa P.) and starring Dakota Johnson (Fifty Shades of Grey; 21 Jump Street; Black Mass; How to Be Single), Ralph Fiennes (The English Patient; Schindler's List; The Grand Budapest Hotel; Harry Potter and the Deathly Hallows) and Matthias Schoenaerts (Far from the Madding Crowd; The Danish Girl; The Drop).
Synopsis: The vacation of a famous rock star and a filmmaker is disrupted by the unexpected visit of an old friend and his daughter, creating a whirlwind of jealousy, passion and, ultimately, danger for everyone involved.
- Freeheld (drama, 104 mins, 6+, in English), at Ciné-Utopia from Wed 6 April 2016.
Directed by Peter Sollett (Raising Victor Vargas; Nick and Norah's Infinite Playlist) and starring Julianne Moore (Still Alice; The Big Lebowski; The Hunger Games; The Lost World: Jurassic Park; What Maisie Knew), Ellen Page (Juno; Inception; X-Men: Days of Future Past) and Steve Carell (The Big Short; Foxcatcher; Anchorman 2: The Legend Continues; Hope Springs).
Synopsis: New Jersey police lieutenant, Laurel Hester, and her registered domestic partner, Stacie Andree, both battle to secure Hester's pension benefits when she is diagnosed with terminal cancer.
- Demolition (drama, 100 mins, 6+, in English), at Utopolis-Kirchberg from Wed 6 April 2016.
Directed by Jean-Marc Vallée (Dallas Buyers Club; Wild; The Young Victoria) and starring Jake Gyllenhaal (Brokeback Mountain; Nightcrawler; Source Code; Prisoners), Naomi Watts (Mulholland Drive; The Impossible; King Kong; Insurgent; J. Edgar) and Chris Cooper (Adaptation; American Beauty; The Patriot; The Bourne Identity; The Amazing Spider-Man 2).
Synopsis: As an investment banker struggles after losing his wife in a tragic car crash, his increasingly confessional series of letters to a vending machine company catch the attention of a customer service rep with whom he forms an unlikely connection.
For further details, see www.utopolis.lu.