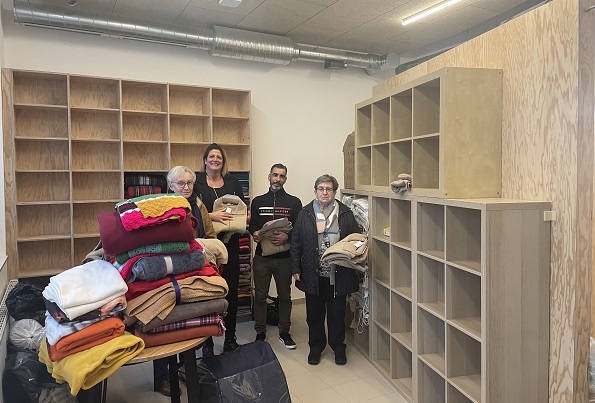 Credit: Stëmm vun der Strooss
The Action Catholique des Femmes du Luxembourg (ACFL) recently donated blankets to Stëmm vun der Strooss, a local non-profit organisation which supports homeless people and vulnerable members of society.
The ACFL launched an appeal in December 2021 to donate warm blankets to those in need during the winter months. A collection was started to hand over as many blankets as possible to Stëmm vun der Strooss, which has been sheltering homeless people, the long-term unemployed, young people in difficulty, alcoholics, drug addicts, people without papers and those affected by poverty and social exclusion since 1998.
The ACFL of Fischbach and the Jeunes Mamans Mersch association mobilised and collected 43 warm blankets, which will be distributed free of charge to those in need who visit the new "Saxo" centre of Stëmm vun der Strooss. The centre is located at 24 Rue de Hollerich, a few minutes' walk from the non-profit's headquarters in Luxembourg-Hollerich. The purpose of this establishment is to relieve the long queues that form daily in front of the social restaurant at 7 Rue de la Fonderie due to the COVID-19 pandemic and social distancing rules. The Saxo centre opened its doors on 31 January 2022. It offers homeless people a warm place to spend time, rest, eat and receive free clothing.
Alexandra Oxacelay, Director of Stëmm vun der Strooss, and Christophe Rose, Director of the new Saxo centre, thanked the ACFL volunteers for their support during the winter season.