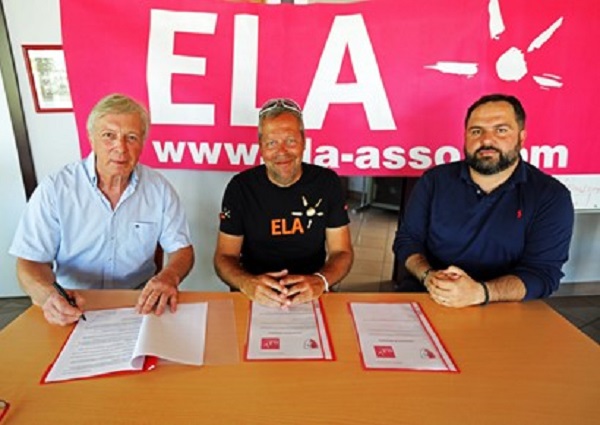 L-R. Fernand Laroche, Swift Hesperange President; Jean-Paul Friedrich, ELA Luxembourg President; Vincent Thalamot, Swift Hesperange Team Manager; Credit: ELA Luxembourg
ELA Luxembourg, an association supporting children with leukodystrophy, has announced its partnership with Swift Hesperange football club.
ELA Luxembourg and Swift Hesperange are joining forces in a unique partnership in Luxembourg, in which the football club has committed human, logistical and financial resources to help the association fulfil its long-term missions, raising public awareness on the themes of disability and solidarity in sport and allowing the funding of research programmes through collected donations.
The purpose of this agreement is to formalise and detail the basis of SWIFT teams' support for ELA, such as:
- the presence of the ELA logo on the warm-up jersey of the senior men's first team;
- the club's participation in the "Mets Tes Baskets" initiative to support the fight of ELA Luxembourg against leukodystrophy;
- the launch of a "business tournament", bringing together 32 companies and putting them into male, female and / or mixed teams of ten players divided into four pools that compete outdoors. The teams will have the opportunity to face off against a team made up of ELA sponsors as well as teams composed of former professional football players from France, Belgium and Germany. The registration fee includes all logistics, catering, personalised outfits and a donation to ELA Luxembourg;
- the establishment of an "inter-company Teqball tournament" for the benefit of ELA Luxembourg in September 2021;
- the creation of an e-sport team by Swift Hesperange with the aim of launch a streaming tournament, during which the donations collected will go to ELA Luxembourg.
The partnership put in place is long-term and the operations carried out jointly are likely to multiply according to initiatives, ideas or opportunities.
More than anyone, football players as top athletes are very sensitive to disability and the need to take care of, develop and maintain their "human capital". As Fernand Laroche, President of Swift Hesperange, explained: "Our desire is to make as many people as possible aware of the benefits of sport and of solidarity in everyone's daily life. We want to be part of this very tough fight against disease and help reduce the time between ELA and certain victory. The club already has several association sponsors who embody all of these values ​​that we want to promote and pass on. Supporting ELA Luxembourg means engaging all club members, partners, supporters and athletes in a united and sustainable approach to make a difference. We have this power, you just have to want it and at SWIFT, we want it!"
Jean-Paul Friedrich, President of ELA Luxembourg, added: "Today, at the dawn of the first therapeutic treatments, and more than ever, every gesture counts in overcoming leukodystrophy. Some have more impact and are accelerators that are filled with hope. [Having] a whole club behind us makes us stronger, more resilient. This partnership, unique in Luxembourg, will help us to raise awareness among more people, it is a great opportunity to be able to make leukodystrophy known to the general public but also to scientific communities".