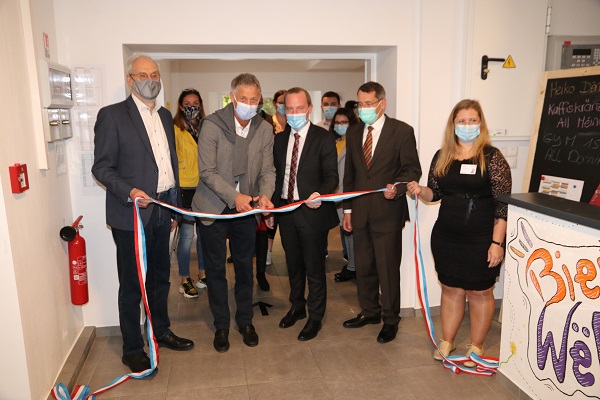 (L-R): Marco Schank, mayor of Esch-sur-Sûre; Henri Kox, Minister of Housing; Claude Siebenaler, Ministry of the Family; Michel Simonis, DG of Luxembourg Red Cross; Tamara Marson, Luxembourg Red Cross; Credit: Red Cross Luxembourg
On Tuesday 20 October, the Croix Rouge luxembourgeoise (Luxembourg Red Cross) inaugurated a new supervised accommodation for the elderly in Esch-sur-Sûre.
As a leading member of the help and care network, the Luxembourg Red Cross has extended the network's offer of housing for the elderly by inaugurating the supervised housing "Residenz Laanscht an d´Sauer" in the presence of Henri Kox, Minister of Housing, Marco Schank, mayor of the City of Esch-sur-Sûre, Michel Simonis, Director General of the Croix-Rouge luxembourgeoise, and Claude Siebenaler, head of the Elderly People Department at the Ministry of Family, Integration and the Greater Region.
The Luxembourg Red Cross, as an actor with the elderly, offers adapted and innovative solutions to its target audience which includes housing. That is why in 2019, it opened the supervised accommodation "Residenz Laanscht an d´Sauer" to supplement the offer of the help and home care network. This supervised accommodation is made up of around twenty studio apartments intended for the elderly. The Esch-sur-Sûre structure is managed by the Aid and Care service of the Luxembourg Red Cross.
"It is intended for people with loss of autonomy or social bond, who wish to maintain their independence in a private apartment, while benefiting from care and services, activities and social stimulation in an adapted and secure environment, and while respecting their lifestyle," explained Michel Simonis, Director General of the Luxembourg Red Cross.
Comprehensive services
The studio apartments range in size from 16 to 32 m2, including two double studios suitable for couples, and four so-called emergency rooms for short and temporary stays. In supervised housing, independent or low-dependency elderly people have the opportunity to live in apartments adapted to their needs and to benefit from a series of services that make their life easier.
In the supervised accommodation in Esch-sur-Sûre, the following services are provided: nursing staff from 06:00 to 22:00, catering service or sometimes meals cooked on site, as well as various and varied activities aimed at entertaining and stimulating the residents. On-call nursing is supplemented by a permanent nurse, available according to residents' needs and guaranteed 20 hours per week. For customers in need of care, the help and care unit from Wiltz is there. "Each studio in the supervised accommodation is also equipped with the Help24 call and assistance system. Thanks to the red Help24 button, each resident can get help in the event of a fall, for example," said Tamara Marson, responsible for supervised housing.
"It is important to us to offer activities to residents. This is why we have established a calendar of activities offered each week such as the pastry workshop, the song workshop, soft gymnastics for example," explained Tamara Marson. "In addition, we regularly collaborate with the Senior Clubs of the Help network to offer activities adapted to our most active residents."
The Luxembourg Red Cross
The mission of the Luxembourg Red Cross is "to improve the living conditions of vulnerable people". Its thousands of volunteers and more than 2,400 professionals make it a major player in the fields of Health, Social, Youth and Humanitarian Affairs.
The Luxembourg Red Cross is thus engaged in activities as diverse as international emergency humanitarian aid, home care, blood transfusion, rehabilitation, reception of elderly or dependent people in day centres or integrated, social assistance, reception of migrants and refugees, individual assistance for people in difficulty, relay houses and youth centres, as well as socio-family therapeutic services.