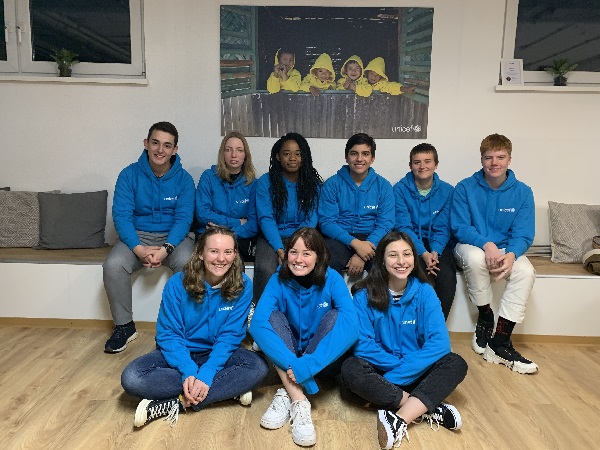 Young ambassadors; Credit: UNICEF Luxembourg
UNICEF Luxembourg has just named its first young ambassadors; the ten chosen young people will commit to children's rights for one year.
As part of the 30th anniversary of the United Nations Convention on the Rights of the Child, UNICEF Luxembourg appealed to recruit its first young ambassadors. The young people who have been selected, between the ages of 15 and 18, will henceforth commit themselves to the rights of children and young people both in the Grand Duchy and throughout the world. They will develop their own ideas together and define the details of their commitment for next year.
Chosen among dozens of candidates, Celia, Lisa, Matilda, Luis, Maria, Alec, Liana, Hugo, Cathy and Samantha, are now part of the first group of young ambassadors of UNICEF Luxembourg. These young ambassadors will make their first public appearance as part of World Children's Day on Wednesday 20 November 2019.
As part of their new role, the ten ambassadors will be in charge of the news at the Luxemburger Wort as "Chefredakter fir een Dag" (editor in chief for a day), and will be interveiwed by RTL Radio Lëtzebuerg on their motivation and commitment to children's rights.
In addition, two young ambassadors had the opportunity to travel to Malawi for a UNICEF project visit. In this context, Liana and Alec not only had the opportunity to see first-hand how UNICEF supports Malawian children, but they also interacted with young people in person and discussed a variety of topics related to education and climate.
In the coming months, the young ambassadors, guided by UNICEF, will engage in various children's rights issues as defined by themselves.
Sandra Visscher, Director of UNICEF Luxembourg, explained: "With UNICEF being the only organisation mentioned in the Convention on the Rights of the Child, these are at the heart of our mission. But it is important that we not only work for children, but also together with them. It is in article 12 of the Convention in particular which stipulates the importance of the participation of young people so that they express themselves on the questions which concern them".