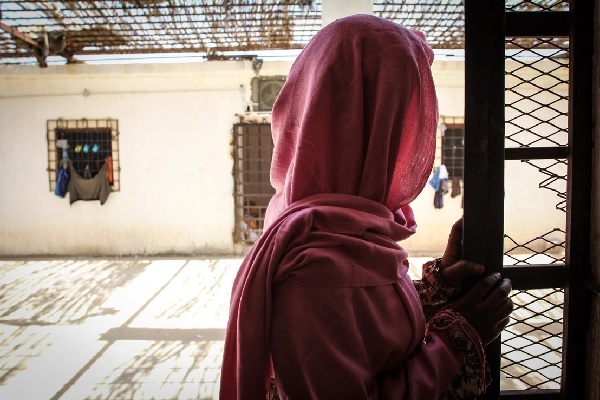 Woman in a detention centre in Libya; Credit: © Sara Creta/MSF
In its 2018 report, Médecins Sans Frontières (MSF) revealed that the association had received some €7.5 million from donors in Luxembourg to support its activities.
During the year 2018, MSF teams intervened in 74 countries, in which they developed 446 medical and humanitarian projects. The organisation conducted 11,218,676 outpatient consultations and hospitalised more than 750,000 patients.
The association's activities included providing medical care to thousands of people suffering from serious gunshot wounds in the Gaza Strip, combatting the deterioration of the living conditions of civilian populations in Yemen after four years of war and countering the criminalisation of NGOs in the Mediterranean Sea, as well as helping migrants, refugees and asylum seekers break the cycle in which they find themselves endlessly wedged between the sea and detention in Libya.
In Luxembourg, 24 employees work within the association to educate the local population on humanitarian issues, raise the funds needed to fund interventions and mentor MSF volunteers who go out into the field, as well as the implementation of dozens operational research studies conducted by its LuxOR unit (the Luxembourg-based operational research unit).
In 2018, LuxOR continued to support more than 65 medical and humanitarian aid projects through research. The team travelled to eighteen different countries to support medical activities in the field. To strengthen the capacity of the medical staff, the unit supported six training programmes dedicated to operational research in Greece, Lebanon, Kenya, South Africa, Uganda and Sri Lanka. In addition, LuxOR has contributed to the publication of 95 scientific articles in leading scientific journals, covering thirteen thematic areas.
The Luxembourg association also brings together 106 members, 44 volunteers, nine Board members and more than 23,600 active donors who allow MSF to continue its mission. In 2018, Luxembourg donors supported MSF's activities to the tune of €7.5 million.
Dr. Guy Berchem, President of MSF Luxembourg, commented: "96% of our mission funding comes from private donors; we need the constant support of the Luxembourg population".