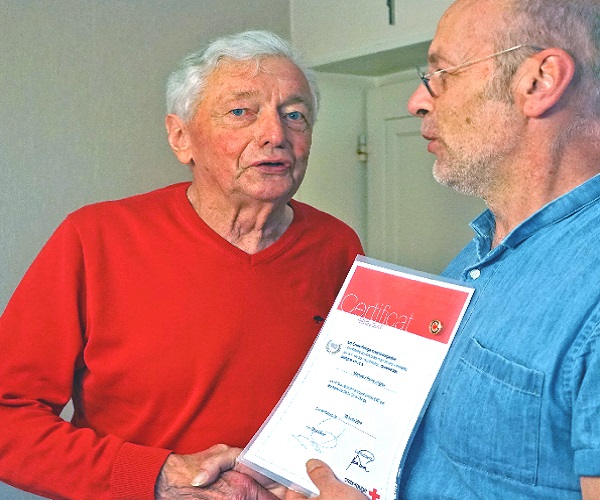 Credit: Luxembourg Red Cross
On the occasion of "Donation Month", the Luxembourg Red Cross has honoured Pierre Wagner who, for more than 50 years, has been collecting donations for the humanitarian organisation.
Frank Schmit, head of fundraising at the Luxembourg Red Cross, recently awarded Pierre Wagner a certificate of thanks for his volunteer work at the Luxembourg Red Cross. The certificate recognises Mr. Wagner's 50 years of involvement in raising money for the NGO's "Donation Month" ("Mois du Don") and his overall commitment to the Luxembourg Red Cross.
In 1968, Pierre Wagner was "recruited" by the then vice-president of the Luxembourg Red Cross, Henri Ahlborn. Since then, Pierre Wagner has been volunteering for "Donation Month" every year in the three villages around his home in Helmstal. He commented: "In the next few days I will start to do my usual tricks. People are already waiting for me and always ask me when I'm going to pass. That's what I like, contact with people."
Among his most memorable experiences from volunteering was an invitation from Grand Duchess Joséphine-Charlotte in honour of his 30 years as a volunteer in the Luxembourg Red Cross. Pierre Wagner reflected: "It was a beautiful afternoon that even lasted in the evening, so it was friendly and happy!"
"Donation Month" 2019 has mobilised over 2,000 volunteers throughout Luxembourg. From 30 March to 30 April, they will meet the inhabitants of the country to present the activities of the Luxembourg Red Cross and raise funds. Donations collected will help support and finance initiatives on the ground for the benefit of the most vulnerable people in all areas of the NGO's work. This month is the largest annual fundraising event for the Luxembourg Red Cross.