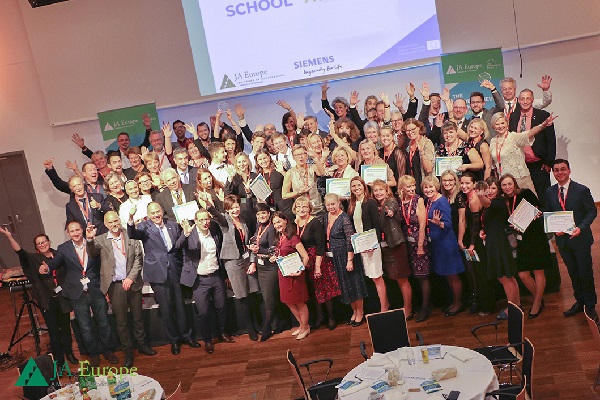 Students from Lycée Ermesinde represented Luxembourg at the TES Awards in Vienna earlier this month.
17 outstanding primary and secondary schools championing entrepreneurship education received the Entrepreneurial School (TES) Awards on 7 November 2018 in Vienna. The TES Awards is an annual recognition led by JA Europe, which aims to provide a supportive and motivational framework to guide schools, principals and teachers from across Europe in their entrepreneurial learning initiatives.
Last week, the TES Awards ceremony, hosted by Siemens, took place as part of the European Vocational Skills Week. For the fourth edition of these awards, 17 innovative (academic and vocational) schools from across Europe were selected at the national level for their cutting-edge vision and outstanding implementation of entrepreneurship education programmes. Luxembourg's Lycée Ermesinde was awarded 11th place this year.
The schools were assessed at national level by special committees composed of JA national offices and their national education authorities. They scored the highest in their countries against key indicators promoting the sustainability of entrepreneurship education: the quality of the school's strategy, the allocation of appropriate resources, the existence of relevant teacher training, the engagement of local and business communities and the extent of the school's best practice network.