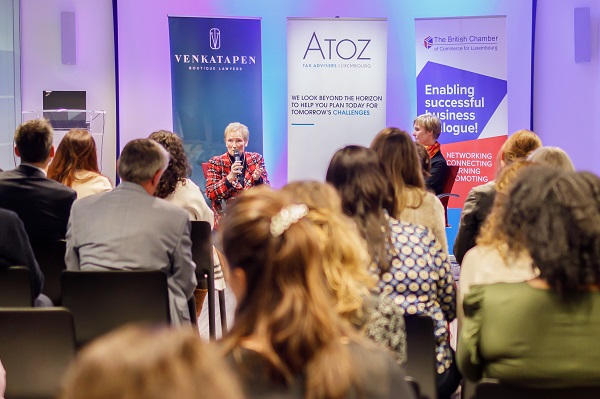 Erna Hennicot-Schoepges speaks at the BCC and The NETWORK's International Women's Day event, 8 March 2023; Credit: Ali Sahib
On the occasion of International Women's Day, on Wednesday 8 March 2023, the British Chamber of Commerce (BCC) People and Leadership Group, in collaboration with The NETWORK, held an event called "Pearls of Wisdom: From one generation to another" at ATOZ in Luxembourg's Aerogolf Center in Senningerberg.
This event was an opportunity to hear the story of experienced Luxembourg politician Erna Hennicot-Schoepges. According to the BCC, Erna Hennicot-Schoepges kept the audience spellbound with her recollections of how she started out in life as a professional pianist, moving into politics in the 1970s, and navigated a stellar political career, while being a mother of three children.
In a wide-ranging interview with BCC People and Leadership Vice Chair Claudia Neumeister, Erna Hennicot-Schoepges talked about the importance of having ideas, believing in them and pushing through, despite nay-sayers and an often stiff opposition. "My husband advised me to not read negative press articles and simply focus on my goals," she shared. She went on to stress the importance of education, especially mathematics, for the equal representation of women in the future world of Artificial Intelligence (AI).
She shared her opinion on the idea of a women's quota, stating that "no woman wants to be the 'quota-woman'," adding that women want to be selected for their achievements. Acknowledging, however, that psychological biases may influence the decision-making processes in male-dominated sectors like corporate boards, she mused that the quota may be a temporary "necessary evil". At the same time, she suggested that quotas should also exist at the other end of the spectrum for men, who are under-represented in care professions, for example, adding that it should also become more normal for men to take parental leave.
In the Q&A session that followed, the overall message was that if you set your heart and mind to something, then you can certainly achieve it, regardless of gender.
The event ended with a raffle for three copies of Languages.lu's game "Wie sinn ech?" (Who am I?), which features inspiring women in Luxembourg.