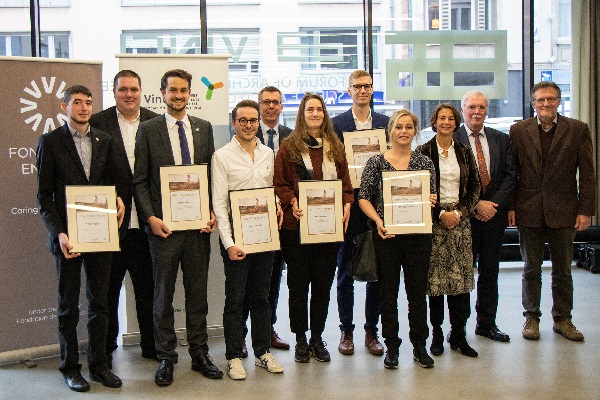 2019 winners; Credit: Fondation Enovos
On Saturday, the Fondation Enovos rewarded six young engineers with its "Prix d'Excellence" for their contributions to sustainable living.
For the eighth time, Fondation Enovos, under the auspices of the Fondation de Luxembourg, together with its partners at the da Vinci and ANEIL (National Association of Luxembourg Engineering Students) associations held their award ceremony for the best work of graduate engineers.
An independent jury made up of seven engineers selected students from among thirteen applications to be awarded with a prize of €2,500 each for their excellence. All the winners received the mention "Very good". These were: Alex Mersch for the project "Predicting damage accumulation in carbon-fibre composites under fatigue loading"; Michel Reisch for his project "Entwicklung eines Hochleistungsfügeverfahrens durch Kombination eines Unterpulver- und Plasmaschweißverfahrens"; Maximilian Hamilius with "Anwendungsfälle zur Kopplung von Niederspannungsnetzen"; Yann Faber for the project "Funktionsmustererstellung eines Systems zur intermittierenden pneumatischen Kompression"; Marthe Faber for her project "Usage Of Inter-Site Electromagnetic Transfer Functions In Exploration For Geothermal Resources"; Michelle Salmon for the project "Future of steelmaking - Outlook to 2050".
The jury was composed of Michel Pundel (president), Thierry Flies, Olivier Georges, Laurent Heinen, Philippe Osch, Guy Hoss and Nico Binsfeld.
The awards ceremony took place in the presence of Tonika Hirdman (General Director of Fondation de Luxembourg), Claude Simon (Head of Energy Sales of Enovos Luxembourg), Charly Huberty (President of ANEIL), Änder Schanck (President and Founder of Oikopolis Participations SA) and Michel Pundel (President of the Jury).
The eighth edition of Fondation Enovos' "Prix dExcellence" ended with a networking event where aspiring engineers had the opportunity to rub shoulders with the world of renowned engineers.