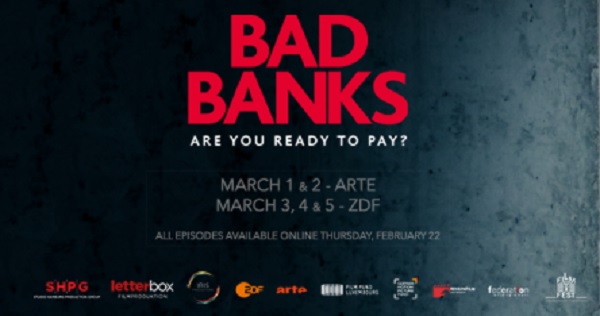 Bad Banks tv series (thriller);
Last Friday evening in Berlin, "Bad Banks" was the big winner of the Deutsche Akademie für Fernsehen award ceremony, with no less than six trophies won from eight nominations; the Academy rewards the best German TV productions.

Winners:
- Barry Atsma (Gabriel Fenger), Best Actor in a Leading Role
- Désirée Nosbusch (Christelle Leblanc), Best Actress in a Supporting role
- Albrecht Schuch (Adam Pohl), Best Actor in a Supporting Role
- Anja Dihrberg, Best Casting Director
- Caroline von Senden & Alexandra Staib (ZDF) and Uta Cappel & Andreas Schreitmüller, Best Commissioning Editors
- Lisa Blumenberg, Best Production Company

These new awards for "Bad Banks" follows prizes already received:
- Best TV Production – Lëtzebuerger Filmpräis
- Best Director forChristian Schwochow – Metropolis (German Directors awards)
- Best National Actress forPaula Beer – Bambi (German Media and Television awards)
- Best Actress in a Leading Role forPaula Beer– Deutscher Schauspielpreis
- Best Actor in a Leading RoleforBarry Atsma– Deutscher Schauspielpreis
- Public Prize – Kino! 2018 German Film Festival of New York
Sold in more than thirty territories, "Bad Banks" plunges into the world of high finance with its power games, manipulations and betrayals. Written by Oliver Kienle and directed by Christian Schwochow, the cast include Paula Beer, Desirée Nosbusch, Barry Atsma, Tobias Moretti, Marc Limpach and Germain Wagner.
Developed over five years between Letterbox (Germany) and Iris Productions (Luxembourg), along with ZDF and ARTE, the series also received the support of Film Fund Luxembourg, the German Motion Picture Fund and the HessenFilm und Medien Fund. Federation Entertainment handles the international sales of the series.
Broadcast in March 2018 on ZDF and ARTE, shooting is currently in preparation for season 2 and will start in early 2019.