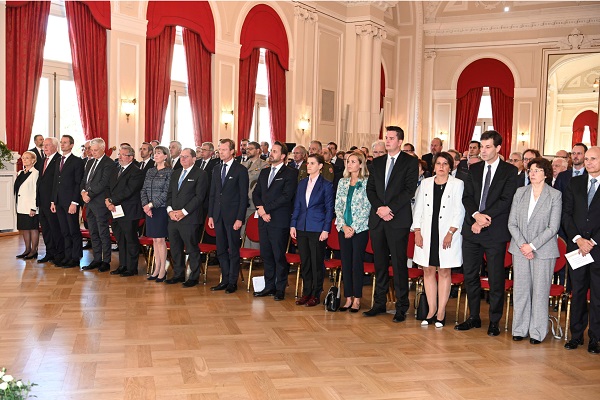 Remembrance ceremony at Cercle Cité; Credit: VdL / Charles Soubry
On Tuesday, Luxembourg City celebrated 75 years since its liberation from Nazi occupation with a commemorative ceremony.
Organised jointly by the Luxembourg Government and the Ville de Luxembourg, the ceremony began with a wreath laying at the National Monument of Solidarity on "Kanounenhiwwel". His Royal Highness the Grand Duke of Luxembourg laid the wreath in the presence of Prime Minister Xavier Bettel, the President of the Chamber of Deputies, Fernand Etgen, and the Mayor of Luxembourg City, Lydie Polfer, along with other national and municipal authorities, the diplomatic corps and representatives of patriotic associations and the Committee for the Memory of the Second World War.
This moment of remembrance was followed by a commemorative session at the Cercle Cité, in which the Serbian Prime Minister, Ana Brnabić, also participated as part of her official visit to Luxembourg. On this occasion, Prime Minister Xavier Bettel and Luxembourg City's Mayor Lydie Polfer delivered speeches during which they recalled the decisive moments of the war and the hardships endured by the Luxembourg people. They also commemorated those who sacrificed their lives for the country's freedom.
In his speech, Prime Minister Xavier Bettel said:"Today is a day of commemoration - let us remember all those who have given their lives so that we can live today in freedom. Let's not forget the past. Let's make sure that such an atrocity will never happen again. It is our duty, our responsibility to oppose intolerance, exclusion and discrimination - this is the best way to honour the memory of previous generations and ensure a better future for future generations". He went on to praise the European project for having "brought us the longest period of peace that our countries have known".
Accompanied by Jean-Claude Muller, Head of the State Ministry's Remembrance Department, participants also visited a photo exhibition featuring photos from 10 September 1944, liberation day for Luxembourg City. They then signed the guest book of the Ville de Luxembourg.
A group from the Conservatoire de la Ville de Luxembourg provided the musical accompaniment during the ceremony.