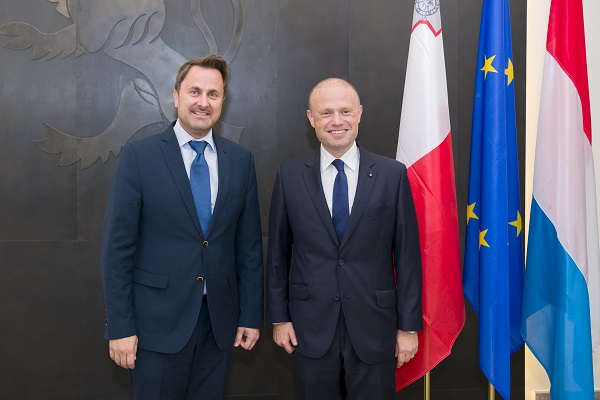 L-R: PM Xavier Bettel; Malta's PM Joseph Muscat; Credit: © SIP / Emmanuel Claude
Malta's Prime Minister, Joseph Muscat, has been in Luxembourg for a working visit on Thursday and Friday this week, at the invitation of the Prime Minister, Xavier Bettel.
On Thursday 18 July, Prime Minister Muscat was welcomed by Prime Minister Bettel for a meeting at Hotel St Maximin. "I am pleased that the bilateral relations between our two countries are so good and that the Maltese community in Luxembourg has grown over the years, which is a positive sign of the ties that bind our countries and peoples," said Prime Minister Xavier Bettel, and added that the Prime Minister's visit has come at a very opportune time, at the very beginning of a new institutional cycle of the European institutions.
"I am pleased that the candidate proposed by the European Council for the presidency of the European Commission has received the support of the European Parliament this week. This will allow us to move forward and focus on substance in order to find common European responses to the challenges we face," said Prime Minister Bettel in the bilateral meeting. There followed an exchange on the priorities of the European Union for the years to come. In this regard, Prime Minister Bettel stressed that the legislative priorities for Luxembourg will be, among others, the completion of the digital single market, the implementation of the social rights, as well as the fight against corruption and global warming.
Finally, a discussion on the potential consequences of Brexit took place during which Prime Minister Bettel noted that "whatever the terms of Brexit and the structure of future relations, Luxembourg will insist on the integrity of the market and the maintenance of a level playing field between the EU and the UK ".
To close the working visit, Prime Minister Muscat and the Minister of European Affairs and Equality, Hellena Dalli, were received on Friday 19 July by Jean Asselborn, Luxembourg's Minister of Foreign and European Affairs, for a working meeting to discuss bilateral relations between Luxembourg and Malta and European news, including the next institutional cycle, as well as the situation in Libya and its migratory impact on Europe.
The head of Luxembourg diplomacy reiterated that new measures would be needed to protect the Schengen acquis, with effective control at the external borders and internally its asylum rules actually implemented. In the Mediterranean region, Luxembourg is one of the contributors in maritime patrols in favour of Operation CSDP EUNAVFOR MED SOPHIA. In addition, Minister Asselborn stressed the importance of solidarity with the Member States of first entry, of which Malta is a part, and assured that Luxembourg will commit to this for a fair and equitable reform of the Dublin system. Luxembourg has participated in all the ad hoc relocations that have taken place since Malta since the summer of 2018 and has so far hosted 30 people following the disembarkation of several ships.