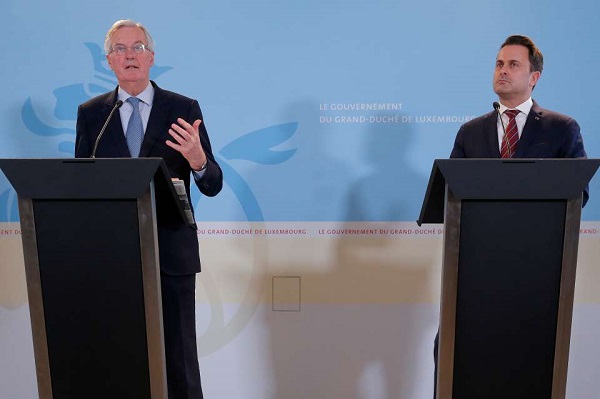 (L-R): Michel Barnier, Chief Brexit Negotiator of the European Commisison; Prime Minister Xavier Bettel; Credit: METAT
On Monday 11 February 2019, Luxembourg's Prime Minister and Minister of State, Xavier Bettel, hosted Michel Barnier, the European Commission's chief Brexit negotiator, at the Hôtel de Bourgogne in Luxembourg-ville.
Michel Barnier is in charge of the European Commission's working group for the preparation and conduct negotiations with the United Kingdom under Article 50 of the Treaty on European Union.
The discussions provided an in-depth look at the current situation in relation to Brexit. "We are 46 days from the date of 29 March 2019, which, if nothing changes, will be the date of exit of the United Kingdom from the European Union", said Prime Minister Bettel during the meeting, stating that Luxembourg has intensified precautions for Brexit, whether it happens with or without agreement.
Prime Minister Bettel lamented that there was no winner at the end of the Brexit process: "Brexit will only produce losers, and in case of a No-Deal, we will all even more be losers, both sides of the Channel."
Prime Minister Bettel also recalled that the 27 Member States and Britain had agreed in November on the exit agreement with the British government, including the Back-Stop. However, he said he was prepared to listen to the grievances of the British government and help to find clarifications. "It is equally clear that the current situation exposes the fundamental shortcomings of the Brexiteers' argument," said Prime Minister Bettel.
"Regardless of the outcome of the forthcoming talks," said Prime Minister Bettel, "Luxembourg will attach great importance to the integrity of the internal market and the level playing field."
Finally, the Prime Minister recalled that the British people have always been an important partner and friend of choice of Luxembourg: "We are grateful to the British people for their courage during the Second World War, which has preserved democracy in Europe and in Luxembourg and I feel a lot of respect and friendship for Great Britain and its citizens."