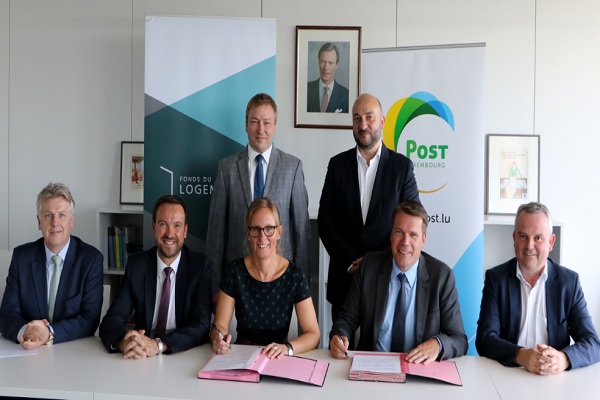 Credit: MLOG
POST Luxembourg and the Housing Fund yesterday signed an agreement on the creation of subsidised housing in former post offices.
On 11 September 2018, the Housing Fund and POST Luxembourg signed, in the presence of the ministers supervising these two public institutions, Economy Minister Étienne Schneider and Housing Minister Marc Hansen, a convention which deals with the sale of six former post offices for the creation of subsidised rental housing.
The Housing Fund is constantly looking for buildings that can accommodate subsidised housing. Meanwhile, for its part, POST manages a large building stock, part of which is unoccupied. The two public actors have since agreed to join forces to provide for the conversion of some of these buildings into housing in central neighbourhoods. Some of these houses will have a post office on the ground floor.
Under the terms of the agreement, the Housing Fund has undertaken to acquire, in the coming months, the sites of Remich, Kayl, Troisvierges, Esch-sur-Sûre, Useldange and Wecker. Through this transaction, the Housing Fund will immediately have eight apartments and, following renovation and redevelopment, 13 units (apartments and single-family homes) to be rented out. Post offices in Kayl and Troisvierges will remain operational.
The total price of the transaction amounts to €6 million overall.