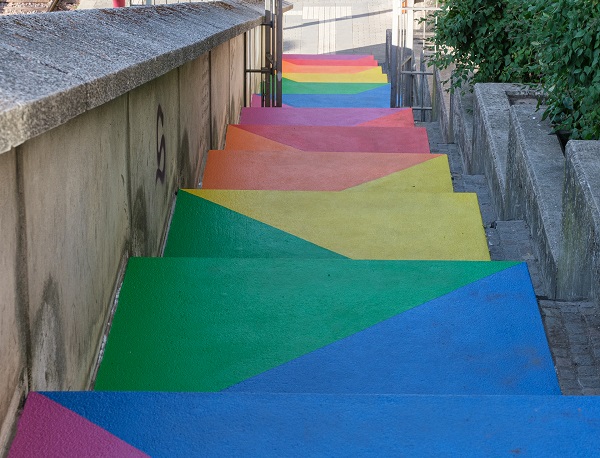 Credit: CFL
Luxembourg's railways, the CFL, have announced that they are presenting the artistic staircase project at Luxembourg Gare this Saturday 13 June 2020 at 11:00.
On Saturday, the CFL will present the artistic project of the staircase located at the end of track 3, leading to the Bonnevoie district, at Luxembourg Central Station. This presentation will take place in the presence of the artists, representatives of CFL and Maurice Bauer, alderman of the City of Luxembourg in charge of social actions and youth.
With the support of the CFL, Miki Vujovic from the Streetwork Service of the association InterActions asbl wanted to bring a dash of colour to the Bonnevoie district through an innovative artistic initiative. Supported by the artist Yves-Laurent Grosbusch for the "Street-Art" event, the young people of Luxembourg-Bonnevoie were able to take advantage of the Pentecost weekend to transform the stairs on track 3 of the station into an open-air artwork. Following the codes of urban art, the budding artists repainted the stairs. The rainbow-coloured graffiti will be finalised this weekend.
Contributing in a solidarity project, coordinated by the Security, Safety & Environment Service of CFL, the graffiti artist Yves-Laurent Grosbusch had already expressed his talent through graffiti at Para-Chute in Luxembourg Central Station. This social project, created in March 2016 by the CFL in partnership with the City of Luxembourg, was joined in 2017 by the Ministry of Family (with Caritas). The project aimed to support young people, the homeless, economically deprived or socially excluded people and redirect them towards various aid structures in Luxembourg.