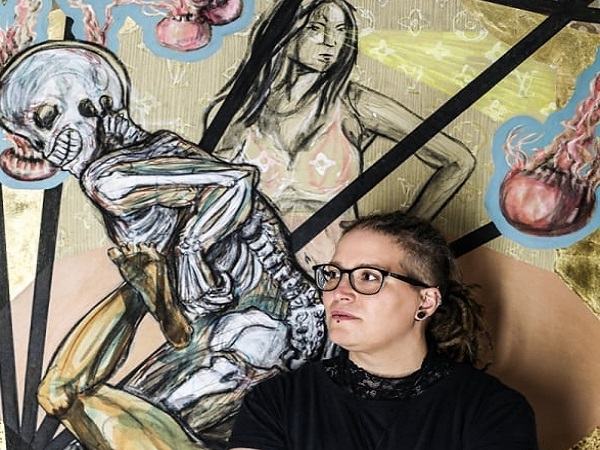 Eldorado; Credit: Désirée Wickler
Luxembourgish artist Désirée Wickler will be displaying her exhibition "Eldorado", based on Edgar Allan Poe's poem of the same name, at neimënster; the opening will be held this Friday 20 September 2019 at 19:00.
The young Désirée Wickler has dedicated her "Eldorado" project to the allegory of the Dance of Death and the personification of Death. A beneficiary of the "stArt-up" fund of the Œuvre Nationale de Secours Grande-Duchesse Charlotte, Désirée Wickler's favoured subjects concern those of beauty, madness, death and daily life as much as those of dream or phantasmagoria. She uses graphite pencil and paper to create dense, disconcerting or tortuous atmospheres.
Inspired by Edgar Allan Poe's Eldorado poem, Désirée Wickler has recreated a modern vision of the Dance of Death for neïmenster, a former abbey steeped in history. The historical scope and relevance of the subject make it possible to put into perspective the paradoxes of human beings. The exhibition is composed of large format paintings adapted to the architectural environment.
Conferences, a meeting with the artist and an exhibition devoted to the collection of the artist's books from Luxembourg's National Library (BnL) will accompany the exhibition.
Eldorado will be on display at the cloister and Lucien Wercollier garden at neimënster from Saturday 21 September until Sunday 15 December 2019, everyday between 11:00 and 18:00. Entry is free.
For further information, visit https://www.neimenster.lu/Culture/Offre-diversifiee-Calendrier-shop-visites/Programmation/Expositions/Eldorado-Saturday-21-September-2019-11-00-00-am.