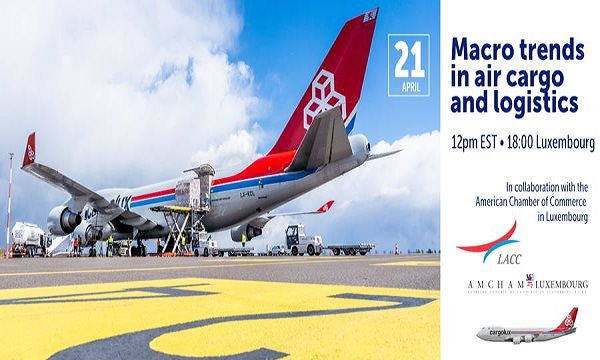 The Luxembourg-American Chamber of Commerce (LACC) has partnered with the American Chamber of Commerce in Luxembourg (AMCHAM) and Cargolux to organise the webinar "Macro Trends in Air Cargo & Logistics" on Wednesday 21 April 2021 at 18:00 (CET, i.e. 12:00 New York time).
Air freight recently grabbed headline attention in many parts of the world due to the critical role played in the initial efforts to distribute personal protective equipment (PPE) and now COVID-19 vaccines during the pandemic. Driven in part by the tail wind of the crisis recovery, air freight has bounced back relatively quickly from the traffic lows experienced in the second quarter of 2020.
This upcoming webinar with Cargolux will share insights into some of the key dynamics in the air cargo market, namely: short and medium term considerations as well as longer term drivers of demand for air cargo; short, medium and long term considerations for air cargo capacity provision; air cargo outlook for 2021.
Speaking at this online event will be Mathieu Weber, a Luxembourg national who has been working at Cargolux for almost four years. He is currently the VP Digital Sales & Marketing, leading the digital transformation of Cargolux's sales function under EVP Sales & Marketing. Prior to this, he led and drove the elaboration of the Cargolux 2025 Strategy, reporting to the CEO as VP Strategy & Corporate Development.
Before joining Cargolux, Mathieu Weber was based in Amsterdam, Beijing and Luxembourg for thirteen years, working at McKinsey & Company, serving airline and aerospace clients on turnarounds, M&A, strategy / business development, commercial transformations and cargo. After completing his university studies in the United Kingdom, he worked for four years in Sales & Marketing at Rolls-Royce plc in the Civil Aerospace division.
To attend this webinar, free registration is required at www.amcham.lu/events/macro-trends-in-air-cargo-logistics.