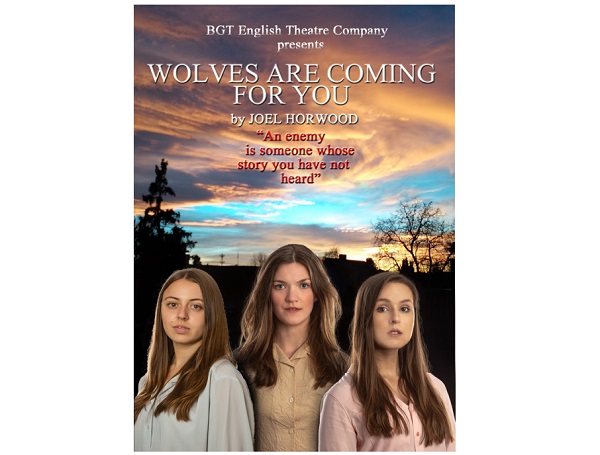 Credit: BGT
The BGT English Theatre Company in Luxembourg will present its first showcase play for trainee actors, Joel Horwood's "Wolves are coming for you", on Thursday 5 and Friday 6 September 2019 at 19:30 and on Saturday 7 September 2019 at 14:30 and 19:30, at the Studio Theatre of the International School of Luxembourg (36 Bd. Pierre Dupong, L-1430 Luxembourg).
Starting this year, the BGT English Theatre Company has decided to organise an annual show which specifically showcases the abilities and talents of a limited number of young or student actors. The project has two aims: firstly, to draw attention to some young actors from Luxembourg, aged between 18 and 23, who are either studying at drama school or are planning to pursue a career in the performing art; secondly, by choosing new and challenging pieces designed for smaller casts, the project aims to offer the performers a chance to develop their skills by tackling larger roles in pieces which would not, normally, be available to them in the usual drama school or college environments. The actors will also be paid for their work and will receive a contract as independent artists which can be used to build their CVs
The first show in this programme will be Joel Horwood's thought-provoking 2017 play "Wolves are coming for you". Written to be performed by a small number of actresses playing all the roles, the piece concerns the fear which grips a small village when rumours spread that wolves are menacing the town. As the fear grows to panic, the villagers gather together in a church hall that was built on the site of a former pagan temple – a place where men and women would gather to tell and share stories. As the town-folk begin to behave like a pack of the very wolves they fear, they start to turn on the outsiders in the community. But this crisis also forces the characters to face themselves and confront the hidden doubts which have brought them to this place The play shows the ease with which fear can turn to isolationism and violence – a trend which can be stopped if we will only listen to everyone else's story.
The English-language play is produced by arrangement with Nick Hern Books and features talented local actresses Holly Dawson, Gina Millington and Céline Planata as the three protagonists.
Tickets cost €15 (students €8). To purchase tickets or for further information, e-mail: the.bgt.lux@gmail.com.