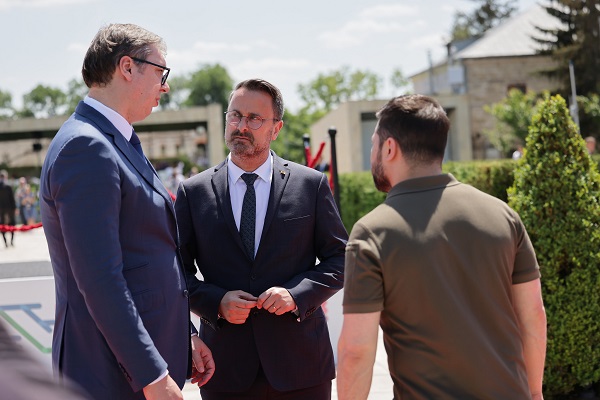 (L-R) Aleksandar Vučić, President of Serbia; Xavier Bettel, Luxembourg's Prime Minister; Volodymyr Zelensky, President of Ukraine; Credit: ME
On Thursday 1 June 2023, Luxembourg's Prime Minister Xavier Bettel took part in the second summit of the European Political Community (EPC) in Chișinău, Moldova.
Created following Russia's war of aggression in Ukraine and on the basis of a proposal by French President Emmanuel Macron, the EPC aims to allow all European partners to exchange directly and define common responses to current challenges.
The second summit began with a brief opening session and continued with various round tables, each focusing on one of the following three themes: security, connectivity and energy.
Prime Minister Bettel took part in a round table dedicated to "Peace and security on the European continent". He stressed that Europe has no choice but to face the new challenges of today and to fight relentlessly against the new hybrid threats which weigh on our democracy. He specified that countering hybrid threats should be an aspect of every Common Security and Defense Policy (CSDP) mission citing the example of the EU Partnership Mission in Moldova, which launched on 22 May 2023 and which aims to strengthen the resilience of the security sector in the country.
The round tables were followed by a working lunch which allowed the leaders to continue and deepen their discussions.
During the second part of the summit, several bilateral and plurilateral exchanges took place, including meetings with the President of Ukraine, Volodymyr Zelensky, the President of Serbia, Aleksandar Vučić, the Prime Minister of Albania, Edi Rama, and the Prime Minister of Portugal, António Costa.
Prime Minister Bettel also took part in a meeting with the President of Montenegro, Jakov Milatović, during which he congratulated his Montenegrin counterpart on its support for Ukraine and encouraged Montenegro to maintain its European trajectory.
Luxembourg's Prime Minister also had a bilateral meeting with the Minister of State of Monaco, Pierre Dartout, with whom he discussed the potential strengthening of bilateral relations in the space field, as well as Monaco's negotiations with the EU.
Moreover, Prime Minister Bettel met the Prime Minister of Moldova, Dorin Recean, and assured him that Luxembourg salutes all the efforts made by Moldova so far and encouraged it to continue on its path towards the EU.