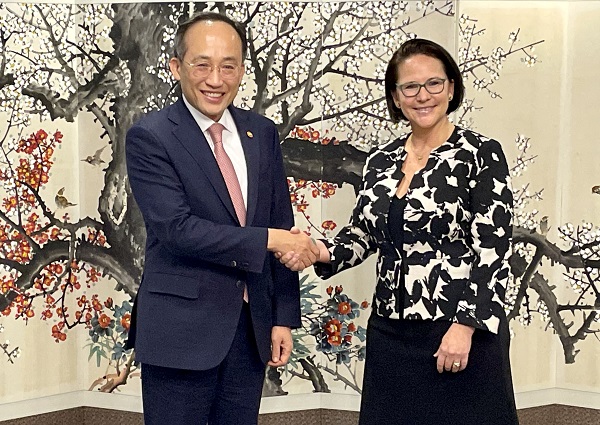 L-R: Kyung-ho Choo, South Korea's Deputy PM, Minister of Economy & Finance; Yuriko Backes, Luxembourg's Minister of Finance; Credit: MFIN
From Sunday 5 to Wednesday 8 February 2023, Luxembourg's Minister of Finance, Yuriko Backes, travelled to South Korea on a financial mission.
The main objective of this visit was to forge links with the Republic of Korea in the financial sector and to familiarise the Korean authorities and professionals of the financial sector with Luxembourg's financial centre. Minister Backes thus met South Korea's Deputy Prime Minister and Minister of Economy and Finance, Kyung-ho Choo. Luxembourg's Finance Minister also had several bilateral meetings with the leaders of Korean financial institutions and investment firms, as well as with the Korea Financial Investment Association (KOFIA), the Korean Federation of Banks (KFB) and the Financial Services Commission (FSC), South Korea's financial regulator.
During the meeting with her Korean counterpart Kyung-ho Choo, Minister Backes highlighted the excellent relations that exist between the Republic of Korea and Luxembourg - 2022 marked the 60th anniversary of diplomatic relations between the two countries. Kyung-ho Choo reiterated that South Korea will always remember the support and sacrifice of Luxembourg, which fought alongside it during the Korean War. The two ministers then discussed the macroeconomic situation, the energy crisis and the impact of Russia's war against Ukraine.
Moreover, Luxembourg's Minister of Finance and her Korean counterpart agreed to explore new avenues of cooperation in the financial sector and to share best practices, particularly in the field of green finance; South Korea and Luxembourg were among the first countries in the world to adopt a framework for the issuance of so-called "sustainability bonds".
Minister Backes commented: "Our countries share common values and uphold a rules-based international world order. Moreover, Korea and Luxembourg are open economies that encourage free trade and globalisation. We are therefore natural allies and partners. The upcoming opening of an embassy in Korea will allow us to further strengthen our relations. In recent years, Luxembourg has also strengthened its cooperation with two international institutions focused on green and climate finance based in Korea, the Global Climate Fund and the Global Green Growth Institute (GGGI). We want to further strengthen our bilateral exchanges in this key area for our economies." Note that last summer, Luxembourg signed an agreement with the GGGI for the establishment of an office in Luxembourg for its activities in Europe.
High-level meetings with KOFIA and the CEOs of major Korean asset management firms as well as with the KFB provided an opportunity for Minister Backes and her delegation (which included a representative of Luxembourg for Finance) to present Luxembourg's financial centre and explore areas of future cooperation.
Luxembourg's Minister of Finance also held discussions with FSC Chairman Joo-hyun Kim on their respective priorities for the development of the financial sector, including in the field of sustainable finance and the digitalisation of financial services.
Finally, Minister Backes took advantage of this visit to meet Young-chul Hong, who held the position of Honorary Consul of Luxembourg in Seoul for 31 years. Luxembourg's Finance Minister thanked Young-chul Hong for his decades-long commitment to strengthening relations between the two countries.
Minister Backes concluded: "I am delighted with the interest in the ecosystem of our financial centre shown by the various interlocutors I met. Indeed, Luxembourg is very complementary to other financial centres, including Seoul, thanks in particular to its specialisation in cross-border financial services and products. While approximately 85% of foreign funds distributed in Korea are of Luxembourg origin, Korea represents a market with strong potential, particularly in the banking and capital markets sectors. I look forward to continuing to strengthen our bilateral ties in the months and years to come."