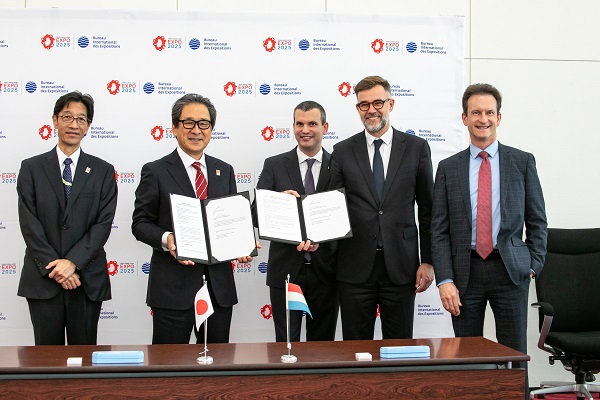 (L-R): Akira Takeda, Osaka World Expo; Hiroyuki Ishige, Osaka World Expo; André Hansen, Luxembourg; Minister Franz Fayot; Carlo Thelen, Chamber of Commerce; Credit: LTIO Tokyo
On Wednesday 30 November, Luxembourg's Minister for the Economy, Franz Fayot, accompanied by Carlo Thelen, Director General of the Chamber of Commerce, and Pierre Ferring, Ambassador of Luxembourg to Japan and Korea, left South Korea, heading to Japan for a three-day working visit.
Upon his arrival in Osaka, Minister Fayot attended the official signing ceremony of Luxembourg's participation contract in the 2025 World Expo in Osaka by the Commissioner General of the Luxembourg Pavilion, André Hansen, and the Secretary General of the Expo, Hiroyuki Ishige.
Luxembourg is thus among the first signatories for its 25th participation in a world exhibition. This signature is an important step in the formalisation of the Grand Duchy's participation in the Expo which will be held from 13 April to 13 October 2025 in Osaka. In addition, the meeting made it possible to present the Luxembourg pavilion project to the organisers of the Expo. It was designed by the Luxembourg architectural firm SteinmetzDeMeyer in such a way as to correspond as closely as possible to the criteria of circularity and to have the least possible impact on the environment. This will thus be an opportunity for Luxembourg to show its commitment and know-how in the field of circularity and sustainability.
This Friday, Minister Fayot will meet the Japanese Minister in charge of the 2025 World Expo Osaka, Naoki Okada, as part of a meeting in Tokyo. This will be an opportunity to discuss the preparations around the organisation of Expo 2025 Osaka.