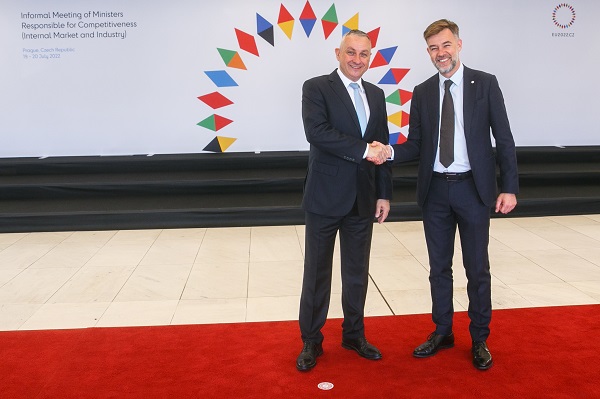 L-R: Jozef Síkela, Czech Minister of Industry and Trade; Franz Fayot, Luxembourg's Minister of the Economy; Credit: Czech Presidency of the Council of the EU
On Wednesday 20 July 2022, Luxembourg's Minister of the Economy, Franz Fayot, participated in an informal meeting of European Union (EU) member states' economy ministers in Prague in the Czech Republic.
This meeting focused primarily on increasing the added value, innovation and competitiveness of the EU in the context of the ongoing transformation of the economy towards decarbonisation, digitalisation, building resilience and opening up strategic autonomy.
During his speech, Minister Fayot noted a gap between, on the one hand, the ambition to master the twin green and digital transition of the European economy and, on the other hand, the means with which the EU is equipping itself to achieve this. "Often too complex, slow and insufficient in volume, the aid measures proposed or accepted by the European Commission do not go far enough to support the European economy to meet the urgent challenges", stated Luxembourg's Economy Minister. "The general EU-level block exemption regulation for state aid needs to be quickly revised to ensure that sustainable investments in projects essential for the decarbonisation of the economy can happen quickly, instead of proceeding on a case-by-case basis and through crisis management, as is currently the case".
During his stay in the Czech capital, Minister Fayot also had a bilateral meeting with the Walloon Deputy President and Minister for Economy, Foreign Trade, Research and Innovation, Willy Borsus. The two ministers took stock of the Liberty Steel dossier and in particular of the development of the activities of the group's sites in Dudelange and Liège. Furthermore, Ministers Fayot and Borsus agreed to strengthen cooperation between the two regions, also within the framework of the Greater Region, in particular in the fields of space and innovation.