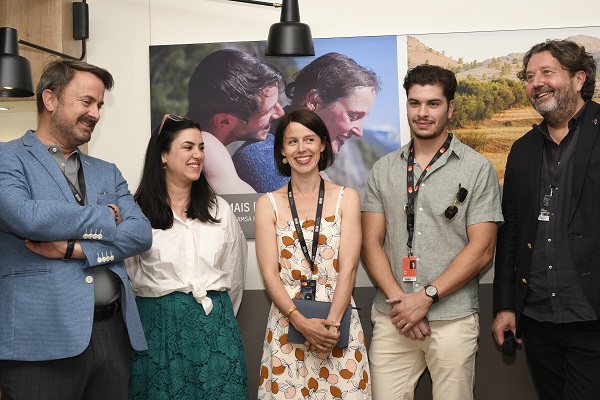 L-R: Xavier Bettel, Luxembourg's Prime Minister, Communications Minister; Delphine Sabat, actress; Aude-Laurence Biver, President of Actors.lu; Nassim Rachi, actor; Guy Daleiden, Directeur of Film Fund Luxembourg; Credit: Thibaut Demeyer / Film Fund Luxembourg
From 18 to 20 May 2022, Luxembourg's Prime Minister and Minister for Communications and Media, Xavier Bettel, travelled to Cannes in France to meet with film industry professionals and take part in the traditional "Luxembourg Day" at the 75th Cannes Film Festival, which is taking place from 17 to 28 May 2022.
On this occasion, Prime Minister Xavier Bettel had the opportunity to learn more about the evolution of the sector to which he showed his support. Luxembourg is represented by six co-productions at this year's festival.
"With this record number of co-productions in the official selection this year, I feel honoured by the talent of Luxembourg cinema. This international recognition once again demonstrates the know-how, professionalism and dynamism of our cinema industry", he stated.
Luxembourg's Prime Minister also visited several stands at the Marché du Film (Cannes Film Market), including that of Ukraine. He went on to greet all the national film representatives, their counterparts, co-production partners, distributors and others at the traditional Luxembourg reception.
Moreover, a meeting was scheduled with Guilhem Caillard, Managing Director of the CINEMANIA Francophone Film Festival in Montreal, at the Luxembourg pavilion to discuss the organisation of Luxembourg's presence next November at said festival, which will honour the Grand Duchy, represented by a large audiovisual and cultural delegation.
Film Fund Luxembourg also took part in the traditional French-speaking co-production meeting bringing together partners from five countries: Luxembourg, Belgium, France, Switzerland and Canada.
In collaboration with the Luxembourgish Association of Filmmakers and Scriptwriters (LARS) and ACTORS.lu (association of Luxembourg actresses and actors), Film Fund Luxembourg awarded a grant to young actors Nassim Rachid and Delphine Sabat as well as to the young director Dominique Santana in order to to allow them to take part in the Cannes Film Market and to meet the professionals present.
Initiatives supported by Film Fund Luxembourg on the sidelines of the Cannes Film Market:
NEW DAWN
On Saturday 22 May 2022, nine European film funds (including Film Fund Luxembourg) officially launched in Cannes a new production fund called "NEW DAWN" aimed at promoting greater diversity in the international film industry. Alongside this creation, the first call for projects is open online at newdawn.film
Participating funds: Communauté française de Belgique - Centre du Cinéma et de l'Audiovisuel; Flanders Audiovisual Fund; Film Fund Luxembourg; Finnish Film Foundation; Norwegian Film Institute; Swedish Film Institute; Screen Ireland; Instituto Português do Cinema e do Audiovisual; Netherlands Film Fund.
UKRANIAN FILMS NOW
This initiative aims to accelerate the completion of a portfolio of nine Ukrainian films in post-production by providing financial support to these films and by networking Ukrainian teams with potential European co-producers and partners. More than a dozen film funds, including Film Fund Luxembourg, have already joined forces to support this action.
Event promoted by EAVE, First Cut Lab and When East Meets West, in partnership with EFAD and CineRegio, under the patronage of the Cannes Film Market.
Support for Ukraine – other initiatives
In March 2022, faced with the dramatic situation in Ukraine, Film Fund Luxembourg, through the European Film Agency Directors Association (EFAD) wished to express its solidarity with the country's film industry and to support it through two initiatives, namely International Coalition for Filmmakers at Risk and Filmmakers for Ukraine.
The financing of these support initiatives is ensured on the one hand by the use of the budgetary reserves of the EFAD and on the other hand by a financial contribution from each member organisation of this association.
Six Luxembourg co-productions in selection at the 2022 Cannes Film Festival:
Official Selection "Un certain regard"
- Corsage, co-produced by Bernard Michaux and directed by Marie Kreutzer (with Vicky Krieps in the lead role)
- Plus que jamais (More than ever), co-produced by Jani Thiltges (Samsa Film) and directed by Emily Atef (with Vicky Krieps in the lead role)
- Harka, co-produced by Donato Rotunno (Tarantula Luxembourg) and directed by Lotfy Nathan
Official Selection "Séance événement"
- Le petit Nicolas – Qu'est-ce qu'on attend pour être heureux ? (Little Nicolas – What are we waiting for to be happy?), co-produced by Lilian Eche and Christel Henon (Bidibul Productions) and directed by Amandine Fredon and Benjamin Massoubre, based on the work of René Goscinny and Jean-Jacques Sempé
Official Selection "Séance de minuit"
- Rebel, co-produced by Jésus Gonzalez (Calach Films) and directed by Adil Ek Arbi and Bilall Fallah
Directors' Fortnight (Quinzaine des Réalisateurs)
- Pamfir, co-produced by Adolf El Assal (Wady Films) and directed by Dmytro Sukholytkyy-Sobchuk