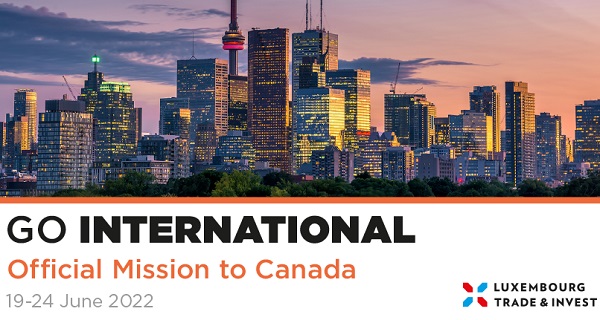 The Luxembourg Chamber of Commerce has announced that it is organising, in close cooperation with Luxembourg's Ministry of the Economy, a multi-sectoral official trade mission to Toronto and Montreal, Canada from 19 to 24 June 2022.
The delegation will be headed by His Royal Highness the Hereditary Grand Duke of Luxembourg and led by Franz Fayot, Luxembourg's Minister of the Economy, and Carlo Thelen, CEO of the Luxembourg Chamber of Commerce.
The official trade mission will include:
a visit to Collision, North America's fastest growing tech conference, attracting over 33,000 visitors, more than 850 investors and over 1,250 startups from more than 140 countries; Luxembourg will have a national startup pavilion at the fair this year for the first time;
participation in the business-to-business (B2B) event organised on the sidelines of the Collision fair;
a Business Forum in Ontario and in Quebec;
a visit of flagship projects featuring cutting-edge technologies in Toronto and Montreal;
networking receptions in both locations.
The mission will focus on the following sectors: cybersecurity, cleantech, healthtech, fintech and space.
The Luxembourg Chamber of Commerce has arranged for a discounted fare for participants who choose the recommended flights as well as advantageous group rates at hotels both in Toronto and Montreal. Further information is available in the registration form (link below). Tickets to the Collision fair in Toronto will be provided free of charge by the Luxembourg Chamber of Commerce.
Those interested in taking part in this official trade mission should register before 18 May 2022 at: https://forms.office.com/Pages/ResponsePage.aspx?id=fF9TrbHdp0qojaE6cmk7imPS-ubZ51ROq8DZFefgdg5UQVQyRDFCUVo3SzNaSlE4V1YwOU8xWTNPNyQlQCN0PWcu