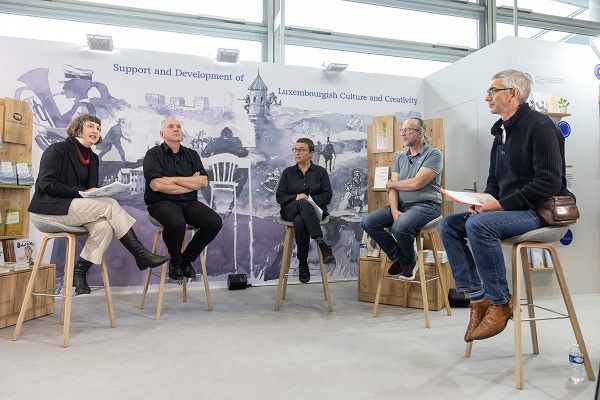 L-R: Nathalie Jacoby, Director of CNL, moderator of the debate; Guy Helminger, writer; Ulrike Bail, writer; Joseph Kayser, writer; Robert Schofield, writer; Credit: Lynn Theisen
After a year's break due to the COVID-19 pandemic, the Frankfurt Book Fair (Frankfurter Buchmesse) is back - and with it, the Luxembourg publishing world.
On Thursday 21 October 2021, Luxembourg's Minister of Culture, Sam Tanson, inaugurated the Luxembourg stand in hall 3 at the Frankfurt Book Fair.
The stand is organised for the first time this year by the new Kultur | lx agency. Under the direction of the literature and publishing manager of Kultur | lx, Jean-Philippe Rossignol, around ten Luxembourg publishing houses are presenting the novelties of their authors, who will debate during roundtables organised on the stand and streamed in collaboration with Kuk.lu.
The discussion on 21 October focused on "the challenges of multilingualism": Nathalie Jacoby, director of the National Literature Centre (CNL) and moderator of the debate, discussed the opportunities and the wealth of the many languages ​​spoken in Luxembourg with writers Guy Helminger, Ulrike Bail, Joseph Kayser and Robert Schofield.
"Although we all had plenty of time to read during lockdown in 2020, direct contact between authors and their readers was missed by all of us, which is why it was essential that we were in Frankfurt: to rediscover this direct contact", Minister Sam Tanson commented during her inaugural speech at the Luxembourg pavilion.
The stand includes a space for discussion as well as a place of discovery with a library wall and mobile islands highlighting the works of publishers. In the spirit of synergies between the arts, an entire wall has been personalised by the illustrator, draftsman and visual artist Marc Angel, winner of the "Lëtzebuerger Buchpräis" in 2020, who portrays the particular situation of Luxembourg as a crossroads of languages ​​and cultures. The publishing houses represented are Black Fountain Press, Capybarabooks, Editions Guy Binsfeld, Editions Phi, Editions Schortgen, Hydre Editions, Kiwi E.L.G, Kremart Edition, Op der Lay and Zoom Editions.
The Frankfurt Book Fair is open to the public until Sunday 24 October 2021.