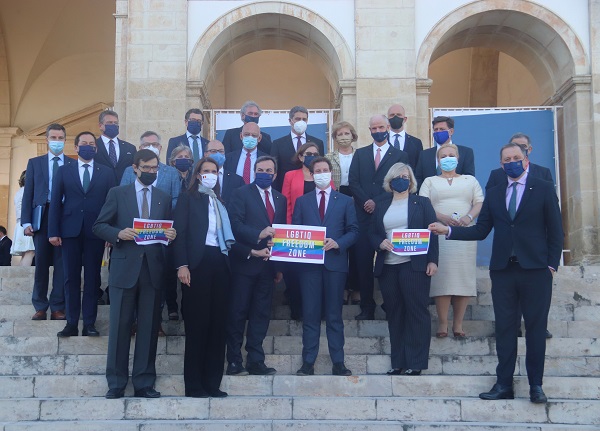 Signatory countries in Coimbra, Portugal; Credit: MAEE
On Monday 17 May 2021, on the occasion of International Day Against Homophobia, Biphobia and Transphobia, fourteen European Union (EU) Member States, including Luxembourg, signed a declaration on the protection of LGBTIQ persons in the EU.
In addition to Luxembourg, Belgium, Cyprus, Denmark, Estonia, Finland, France, Germany, Ireland, Italy, Malta, the Netherlands, Spain and Sweden adopted this declaration during an informal meeting of EU Ministers for European affairs in Coimbra, Portugal.
In the declaration, the ministers expressed their "attachment" to the EU's fundamental values, including the princliple of equality which prohibits discrimination based on racial or ethnic origin, sex, religion or belief, disability, age or sexual orientation. They emphasised the importance of putting this principle into practice.
The Ministers of the Member States having signed this declaration made several commitments.
Firstly, they pledged to "reinforce their political dialogue in order to identify, in close connection with the European Commission, all the means that can be activated in case of infringement of LGBTIQ persons' rights". Through this strengthened dialogue, they will "assess extending the range of instruments of the European Union", in accordance with the respective competences of the EU and the Member States. They noted in particular the need to "stand up against all forms of violence and discrimination, as well as hate speech online and offline", as well as increasing awareness of the daily suffering of many LGBTIQ persons and supporting civil society organisations and human rights defenders fighting for equality.
The second commitment will be to jointly develop a litigation strategy to support the European institutions in court cases where the protection of EU values in general and LGBTIQ persons in particular is at stake.
The third commitment concerns the EU budget, which, as the signatories recalled, "cannot support projects that violate its founding principles". They added that specific financial instruments, such as the regulation establishing the Citizens, Equality, Rights and Values programme "must contribute to the active promotion of the rights and values enshrined in the Treaties and the Charter of Fundamental Rights".
The fourth commitment will be to do everything possible at the national level to protect EU values in general and LGBTIQ persons in particular and to continue to "strengthen institutions and public policies focused on preventing, investigating and punishing discrimination and violence against LGBTIQ persons".
The signatories concluded that the "EU can only be a community of values if its Member States are vigilant and determined in ensuring that no one is left behind".
This declaration is open to all EU Member States that wish to join it.