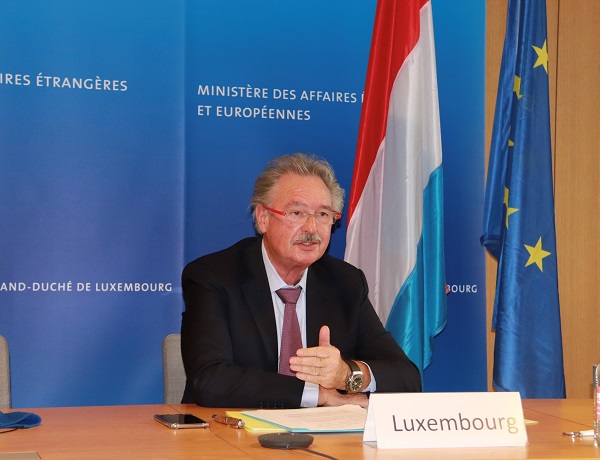 Jean Asselborn, Luxembourg's Minister of Foreign and European Affairs; Credit: MAEE
On Thursday 18 February 2021, Luxembourg's Minister of Foreign and European Affairs, Jean Asselborn, participated via video conference in an informal ministerial meeting of the six states pursuing a feminist foreign policy.
The video conference, which was organised on the initiative of Swedish Foreign Minister Ann Linde, brought together ministers from Luxembourg, Sweden, Spain, France, Canada and Mexico.
This first informal meeting allowed ministers to have an exchange of views on their feminist foreign policy with a view to identifying good practices and the potential for future collaborative initiatives. In an international context marked by multiple attempts to question women's rights, the meeting was an opportunity to emphasise the importance of gender equality and to stand united against the weakening of women's and girls' rights around the world.
In his speech, Minister Jean Asselborn recalled that "the commitment to gender equality and the protection of the rights of women and girls has long been among the priorities of Luxembourg foreign policy". He continued: "It is in this line that the pursuit of a feminist foreign policy has been formally included in the government programme since 2018".
Luxembourg's Foreign Minister highlighted Luxembourg's thematic priorities in this area, namely "the promotion of women's rights as an integral part of human rights, strengthening the representation and participation of women, as an under-represented sex, at all levels of society, as well as the promotion of an active policy of gender equality within the very structures of Luxembourg diplomacy".
He added that, through its "3D" approach (diplomacy, development, defence), Luxembourg has been ensuring that the principles of a feminist foreign policy are systematically included in the implementation of the various dimensions of its external action.
Finally, Minister Jean Asselborn highlighted the need to fight and actively oppose the various attempts to weaken the rights of women and girls around the world. He thus spoke in favour of closer collaboration in the various multilateral fora, both at the expert and ministerial levels, with the objective of setting up concrete initiatives and actions to defend the rights of women and girls.