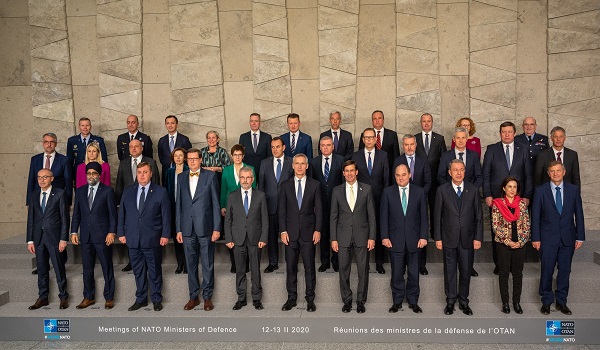 NATO Defence Ministers; Credit: NATO
On Wednesday 12 and Thursday 13 February 2020, Luxembourg's Minister Delegate of Defence Henri Kox participated in the meeting of NATO Defence Ministers in Brussels.
Chaired by NATO Secretary General Jens Stoltenberg, the ministerial meeting reviewed NATO missions and more specifically the NATO Mission in Iraq (NMI). The decision in principle was taken to strengthen the NMI by gradually transferring to it certain activities of the international coalition against Daesh. The NATO mission will remain non-combatant and is subject to the agreement of the Iraqi government.
Indeed, Minister Delegate Henri Kox stressed in his speech that the agreement of the Iraqi government is essential, as is the need to respect Iraq's sovereignty.
Joined by the High Representative / Vice-President of the European Union, Josep Borrell, as well as by the Defence Ministers of Finland and Sweden, two partner countries of the Alliance, the ministers had the opportunity to exchange views on EU-NATO cooperation. In his speech, Minister Delegate Henri Kox recalled Luxembourg's commitment to cooperation between the two organisations. Among the security challenges facing both organisations, the Luxembourg government has paid particular attention to the security implications of climate change.
Finally, the Ministers of Defence took stock of the adaptation of NATO's deterrence and defence posture. Defence ministers also met in "Resolute Support Mission" format in Afghanistan, in the presence of the countries participating in the mission and the international organisations present on the ground. The United States secretary of defence, Mark Esper, informed the allies on the progress of deliberations with the Taliban to conclude a peace agreement.
On the sidelines of the NATO Defence MInisters meeting, Minister Delegate Henri Kox held talks on bilateral defence cooperation with his Romanian counterpart, Nicolae-Ionel Ciucă.