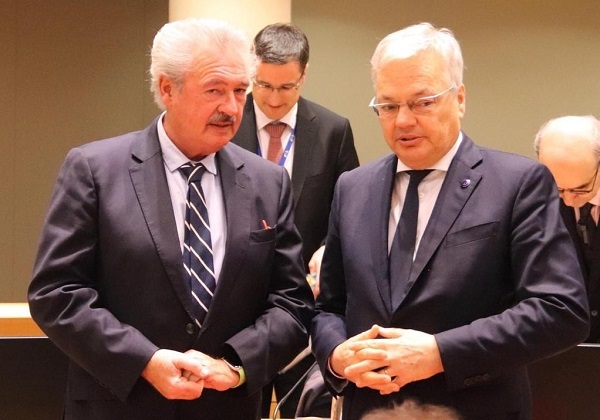 L-R: Jean Asselborn, Minister of Foreign and European Affairs; Didier Reynders, Commissioner for Justice and Consumer Protection; Credit: MAEE
Luxembourg's Minister of Foreign and European Affairs, Jean Asselborn, yesterday participated in the General Affairs Council of the European Union in Brussels.
At the Council, ministers discussed the procedures provided for in Article 7 of the Treaty on European Union (TEU). In this context, the Council held a hearing on Hungary.
In his speech, Minister Asselborn reiterated that "the respect of the values ​​enshrined in Article 2 of the EU Treaty is of indisputable importance for the European Union", expressing his hope that the Hungarian authorities take account of the concerns expressed by the European Parliament.
The ministers then heard an overview of the situation of the European Commission regarding developments in the rule of law in Poland, which is also subject to the procedure of TEU Article 7.
Ministers then continued preparations for the European Council on 12 and 13 December 2019 by examining the draft conclusions of this meeting. On this occasion, Luxembourg reiterated its wish that the European Council agrees on the need to achieve climate neutrality in the EU and all its Member States by 2050 at the latest, and this in accordance with the objective of 1.5°C of the Paris Agreement.
The Council also held a policy debate on the Multiannual Financial Framework 2021-2027. Luxembourg again advocated for an ambitious, modern and reformed European budget that will overcome the persistent fragmentation of the internal market and implement the EU's strategic agenda for 2019-2024.
The ministers also exchanged views on the Commission's work programme for 2020 and its multiannual programming. This exchange of views will enable the Commission to take into account the main concerns of citizens in the work programme for next year. Finally, in preparation for the next European Semester, the future Croatian Presidency of the EU Council presented the roadmap for the 2020 European Semester.