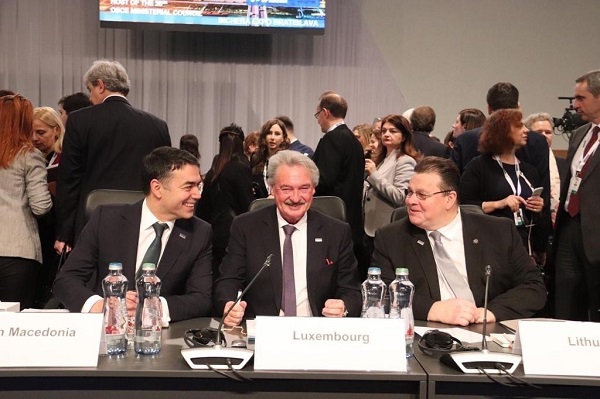 L-R: Nikola Dimitrov, Minister of Foreign Affairs of North Macedonia; Jean Asselborn, Luxembourg's Minister of Foreign and European Affairs; Linas Linkevičius, Minister of Foreign Affairs of Lithuania; Credit: MAEE
At the invitation of the Slovak Chairmanship of the Organization for Security and Co-operation in Europe (OSCE), Luxembourg's Minister of Foreign and European Affairs, Jean Asselborn, participated in the Ministerial Council of Foreign Ministers of the OSCE held yesterday in Bratislava, Slovakia.
The 26th OSCE Ministerial Council, composed of Foreign Ministers from the OSCE's 57 participating states, addressed issues related to security in Europe and reflected on the future role of the organisation in a changing multilateral environment.
In his speech, Minister Asselborn reiterated that the OSCE remains the largest regional security organisation and provides a framework of choice for a dialogue that must be based on mutual trust. Recalling that the international order based on respect for the rule of law today faces enormous challenges, he emphasised that "we must therefore redouble our efforts for effective multilateralism".
Luxembourg's Foreign Minister also expressed his concern at the continuing deterioration in the human rights situation in the OSCE area. In this context, he stated: "We are convinced that every person should have the same rights, regardless of their origin, skin colour, ethnicity, religion, sexual orientation or gender identity, social status or political convictions".
Regarding the conflict in Ukraine, Minister Asselborn reiterated that "Luxembourg remains convinced that only full implementation of the Minsk agreements can lead to a peaceful settlement".
Jean Asselborn also highlighted the role of women in peace and security, stressing that "Luxembourg is convinced of the importance of empowering women as artisans, builders and peace officers. Engaging women in peace processes expands perspectives, promotes openness and diversity, and responds to the concerns of a broader range of stakeholders, leading, in a proven way, to more lasting peace".
In conclusion, Minister Asselborn recalled that "Luxembourg also attaches particular importance to the modernisation of the Vienna Document. We view the recently developed project with the assistance of 32 participating states as a critical tool to help restore confidence in the current security climate that concerns us all".
On the sidelines of the OSCE meeting, Jean Asselborn had a bilateral meeting with his Ukrainian counterpart Vadym Prystaiko to take stock of bilateral relations.