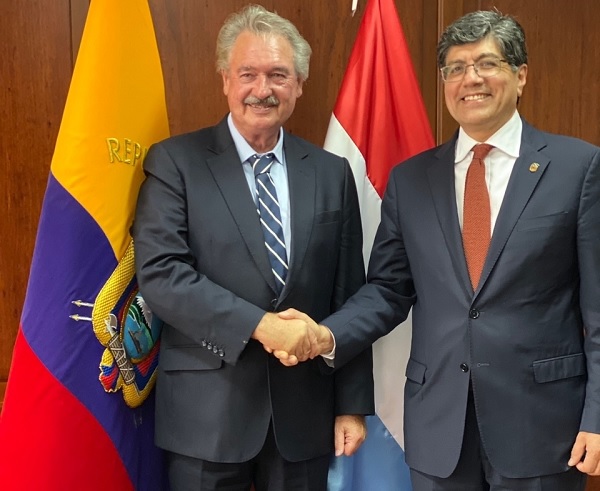 (L-R): Minister Jean Asselborn; Minister José Valencia of Ecuador; Credit: MAEE
At the invitation of the Minister for Foreign Affairs of Ecuador, José Valencia, Luxembourg's Minister of Foreign and European Affairs, Jean Asselborn, made a working visit to the Republic of Ecuador on 29 November 2019.
In his, his first trip to this country located in the Andes bordered by the Pacific, Colombia and Peru, Minister Asselborn was received in Quito by his counterpart, José Valencia, at the Ministry of Foreign Affairs of Ecuador for in-depth discussions on bilateral relations and the regional situation.
The cordial exchange of views made it possible to identify ways to further strengthen the good bilateral relations between Luxembourg and the Republic of Ecuador.
Minister Valencia informed Minister Asselborn of the intention of the Ecuadorian authorities to shortly withdraw Luxembourg from the list of countries they consider as tax havens; the decision will be formalised in the coming weeks.
Minister Asselborn stressed that Luxembourg fully complies with the OECD rules and that the administrative exchange of tax information with Ecuador will be possible as soon as its accession to the relevant Convention of Ecuador will come into effect, on 1 January 2020. Minister Asselborn welcomed the decision to remove Luxembourg from the Ecuadorian list, which will remove the main obstacle to strengthening bilateral economic and financial relations.
In this context, Jean Asselborn assured his counterpart of Luxembourg's willingness to ratify the agreement signed in 2016 that allows Ecuador to join its Andean neighbors, Peru and Colombia, in their trade agreement with the European Union. It should be noted that the EU is Ecuador's second largest trading partner.
The exchange of views between the two ministers also made it possible to take stock of the situation in Ecuador, its relations with neighbouring countries as well as the regional perspectives, the year 2019 having been a year marked by social tensions in a number of South American countries.
The internal situation in Ecuador has stabilised after last month's unrest. Minister Valencia described the Ecuadorian government's approach being based on dialogue. He highlighted the need to preserve democracy, human rights and the rule of law throughout Latin America.
Ministers also discussed the situation in Venezuela and the unprecedented migration crisis it has created for other countries in the region. Like Jean Asselborn, Minister José Valencia is also in charge of migration and human mobility issues. He recalled that Ecuador is particularly affected by the crisis as it hosts at least 400,000 Venezuelan refugees and migrants. Ecuador is behind a major regional initiative, the Quito process, which aims to coordinate the efforts of the 12 Latin American countries affected by this migration crisis.
On international political news, the Ministers noted a strong convergence of views on a number of issues, and welcomed the good cooperation between Ecuador and Luxembourg in multilateral fora, especially the UN.