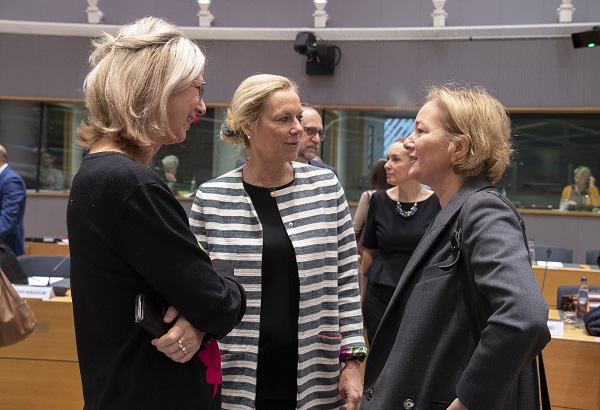 L-R: Birgitta Tazelaar, DG of the Dutch Cooperation; Sigrid Kaag, Minister of Development Cooperation of the Netherlands; Paulette Lenert, Luxembourg's Minister of Cooperation and Humanitarian Action; Credit: European Union
Luxembourg's Minister for Cooperation and Humanitarian Action, Paulette Lenert, attended the Foreign Affairs Council in Development Training in Brussels on Monday.
The council, held under the chairmanship of the High Representative of the Union for Foreign Affairs and Security Policy, Federica Mogherini, saw ministers take stock of the state of play of the negotiations on a new partnership agreement with the African, Caribbean and Pacific (ACP) Group of States. The parties agreed on the need for transitional measures to extend the application of the current Cotonou Agreement.
In this context, Paulette Lenert emphasised the importance of including European values, including gender equality, sexual and reproductive health and rights, as well as the fundamental role of the International Criminal Court in such an agreement.
On the topic of the Global Refugee Forum, scheduled for December in Geneva, Minister Lenert highlighted the need for the use of new information and communications technologies for innovative solutions, also in the humanitarian context.
Discussions then turned to the future European financial architecture for development. Following a brief presentation on this topic, the Presidents of the European Investment Bank (EIB) and the European Bank for Reconstruction and Development (EBRD) highlighted the comparative advantages of their respective institutions.
Minister Lenert stressed the importance of focusing on the strategic political objectives of the EU, which is the largest donor of official development assistance in the world. In the face of global challenges, in particular demographic dynamics and the deterioration of the security situation in the Global South, she emphasised the necessity of acting quickly to ensure sufficient investment and the creation of new jobs in developing countries. It would therefore be necessary to make the most of the current architecture, avoiding further fragmentation and ensuring ownership of the EU and its Member States. Paulette Lenert also emphasised that the EIB is already aligned with these principles and should continue to play this role.
During an informal working lunch, the ministers exchanged on the issue of gender and education with Tilaye Gete, Minister of Education of Ethiopia.