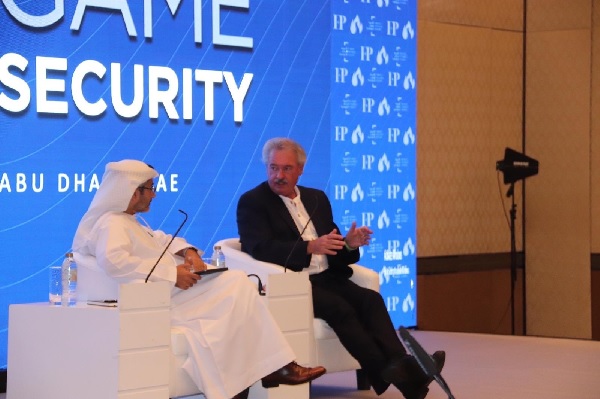 UAE Foreign Minister Abdullah Bin Zayed Al-Nahyan and Luxembourg's Foreign Minister Jean Asselborn at the Sir Bani Yas Forum; Credit: MAEE
Luxembourg's Minister of Foreign and European Affairs, Jean Asselborn, attended the Sir Bani Yas Forum held in the United Arab Emirates (UAE) from 14-17 November 2019.
Prior to the forum, Jean Asselborn met with Bernardino León, Director General of the Emirates Diplomatic Academy in Abu Dhabi. Minister Asselborn also had the opportunity to speak to the young diplomats trained within this academy with whom he shared his experience as head of Luxembourgish diplomacy.
The Sir Bani Yas Forum, organised in cooperation with the US-based think tank, the Center for Strategic and International Studies (CSIS), took place in the context of the international community's many efforts to promote conflict resolution in the Middle East. This initiative allowed for high-level informal exchanges between government representatives and business and academic experts to focus on regional security issues, particularly on the Middle East peace process.
The presence of Foreign Ministers from EU Member States, the Arab League and the Gulf Cooperation Council (GCC), as well as personalities from the world of politics and defence, led to an in-depth exchange of views on the regional situation.
This year, discussions were spread over several interactive round tables. These reviewed the most pressing issues on the international agenda, including recent developments in Syria and Turkey, Iraq, Iran and the situation in Yemen. In addition, the presence of former United States Secretary of State John Kerry enabled participants to engage in an analysis of the implications of US foreign policy in the Near and Middle East regions.
Participants also focused on the latest developments in the relationship between Israel and Palestine. While highlighting the large number of obstacles, participants discussed the different scenarios and approaches that can be used to mark the path towards reviving direct negotiations between Palestinians and Israelis.
On the sidelines of the meeting, Minister Jean Asselborn and his UAE counterpart Abdullah Bin Zayed al-Nahyan signed a Memorandum of Understanding (MoU) establishing regular structured political consultations between the UAE and Luxembourg at the political and administrative level with the aim of developing and deepening bilateral and multilateral cooperation between the two countries. In this context, Luxembourg's Foreign Minister stressed that "the signing today of the Memorandum of Understanding on Political Consultations will enable us to strengthen our bilateral relations in the future and to open up new prospects for cooperation".
The UAE Foreign Minister also invited Minister Asselborn to speak about European and international news at the next diplomatic conference bringing together UAE ambassadors in Abu Dhabi in early February 2020.