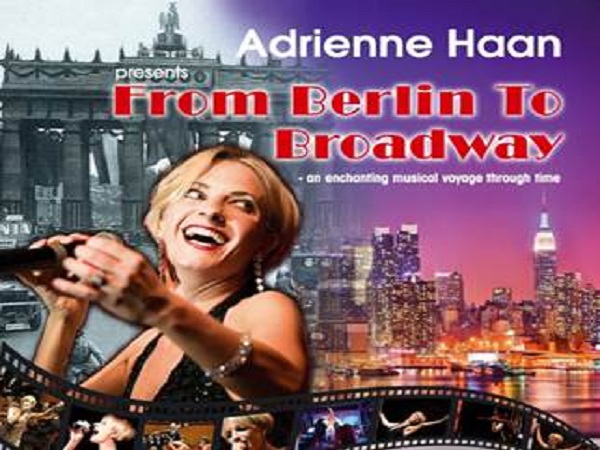 Berlin to Broadway show; Credit: Adrienne Haan
The Consulate General of Luxembourg in New York has announced three upcoming musical and artistic events in the Big Apple featuring artists from the Grand Duchy.
The first event will see baritone David Pike perform Maurice Duruflé's "Requiem" at the Cathedral of St. John the Divine (Amsterdam Avenue on 112th Street) on Tuesday 5 November 2019 at 19:30. The Luxembourg-based opera singer will be accompanied by the Oratorio Society of New York under the musical direction of Kent Tritle. Tickets are available from https://form.jotform.com/oratoriosocietyofny/tix2019nov.
Next up, German-Luxembourgish cabaret artist Adrienne Haan will be performing her award-winning show "Berlin To Broadway" at the Triad Theater (158 West 72nd Street - Bet. Columbus & Broadway Aves - New York, NY 10023) on Wednesday 6 November 2019 at 21:00. This evening will feature a musical voyage from 1920s Berlin to recent Broadway while singing Klezmer / Hebrew music, French chansons by Jacques Brel and Edith Piaf, American Songbook favorites and beloved Broadway show tunes in five different languages. Tickets are available from https://tickets.vendini.com/ticket-software.html?e=a9878178320688f82ee752f37679c665&t=tix&vqitq=5eebd697-b617-4d02-892a-653a1e6b2404&vqitp=c9e91b89-9f9d-4b21-a9bd-d69f27970de2&vqitts=1559906551&vqitc=vendini&vqite=itl&vqitrt=Safetynet&vqith=2d29b1bb20ac7075d12a9f058bfb7549.
Last but not least, Luxembourg-based artist Sue-Mei Tsé Haan will be showcasing her solo exhibition "In the (very) Beginning)" at the Peter Blum Gallery (176 Grand Street - New York, NY 10013) from 21 November 2019 until 18 January 2020. An opening reception with the artist will take place on Thursday 21 November 2019 from 18:00-20:00. The exhibition will be open Tuesday-Friday from 10:00-18:00 and on Saturdays from 11:00-18:00. This is the artist's fifth solo show with the gallery and first exhibition following her acclaimed 2017-2019 traveling exhibition "Nested" at Mudam Luxembourg, the Aargauer Kunsthaus in Switzerland, the Taipei Fine Arts Museum, and the Yuz Museum in Shanghai. Sue-Mei Tsé is the First Recipient of the Edward Steichen Award, Luxembourg (2005).