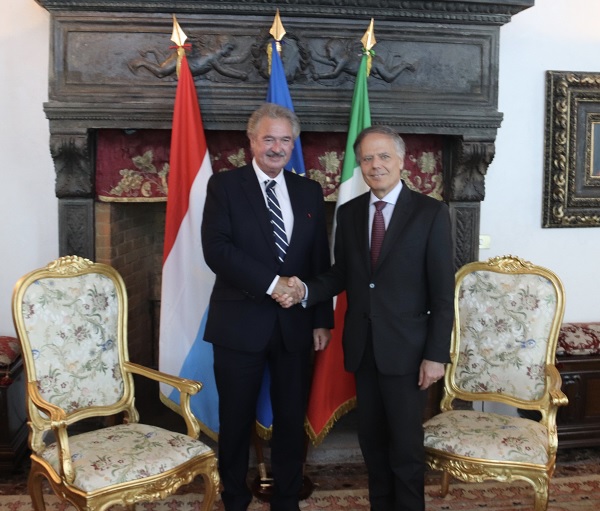 (L-R): Minister Jean Asselborn; Italian Minister Enzo Moavero Milanesi; Credit: MAEE
At the invitation of Italy's Minister of Foreign Affairs and International Cooperation, Enzo Moavero Milanesi, Luxembourg's Minister for Foreign and European Affairs of Luxembourg, Jean Asselborn, paid a working visit to Rome on Tuesday 23 July 2019.
During their discussions at the Villa Madama in Rome, the two ministers gave an update on bilateral relations and discussed the major issues of European and international political news. At the bilateral level, the historic ties of friendship and cooperation between the two founding EU countries are consolidated by the presence of the strong Italian community in Luxembourg. In this context, Minister Asselborn pointed out that "with a strong historical presence in the Grand Duchy of Italo-Luxembourg and around 22,500 Italian nationals in Luxembourg, the Italian community contributes significantly to the cultural enrichment of our country and to its economic growth".
As part of their meeting, ministers Asselborn and Milanesi signed a memorandum of understanding on political consultations between Italy and Luxembourg. This text aims to establish regular structured consultations between the two parties at political and administrative level with the aim of developing and deepening their cooperation at bilateral, European and multilateral level. In this context, the head of Luxembourg's diplomacy stressed that "the signing today of the Memorandum of Understanding on Political Consultations will allow us to reinforce our traditionally excellent relations in the future and to open up new prospects for cooperation".
The ministers saw a broad convergence of views on key European issues including the next institutional cycle, the multiannual financial framework, the EU enlargement process, the protection of the rule of law in the EU and the withdrawal of the United Kingdom from the EU. In the wake of the informal working meeting on migration in the central Mediterranean held on Monday 22 July in Paris, they also discussed the migration issue and more specifically the situation in Libya. The two ministers expressed concern over the fighting around Tripoli, which also has a direct impact on migratory flows in the central Mediterranean.
In this context, the ministers were unanimous in recognising that there is no alternative to the creation of adequate capacity for the reception of migrants, under the responsibility of the United Nations. Reporting on his visit to Libya in 2018, Minister Asselborn stressed that "all parties must respect international humanitarian law and allow the United Nations Refugee Agency (UNHCR) and the International Organization for Humanitarian Affairs migration (IOM), to work without restriction. Camp bombardments, such as the Tajoura detention centre in Tripoli on 2 July, are unacceptable."
In addition, ministers discussed recent developments in the Strait of Hormuz where the situation remains very worrying according to the two ministers.