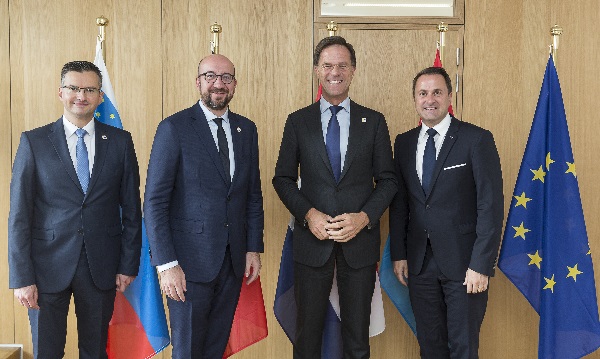 L-R: Marjan Sarec, Prime Minister of Slovenia; Charles Michel, Prime Minister of Belgium; Mark Rutte, Prime Minister, Minister of General Affairs of the Netherlands; Luxembourg Prime Minister, Minister of State Xavier Bettel; Credit: 2019 SIP / Thierry Monasse, all rights reserved
On 20 and 21 June 2019, Luxembourg Prime Minister and Minister of State Xavier Bettel participated in the European Council in Brussels.
On 20 June, the EU Heads of State and Government adopted the EU's strategic agenda for the period 2019-2024, which will guide the work of the European Council for the years ahead. It is also in this context that the leaders had an exchange on appointments for the next institutional cycle. However, the leaders made no final decision and an extraordinary meeting will be convened on 30 June 2019.
On the same day, the leaders adopted conclusions on a series of topics, including the issue of the Multiannual Financial Framework (MFF) for the period 2021-2027, as well as on climate change in the run-up to the Climate Action Summit organised by the United Nations (UN) on 23 September 2019. With regard to this last point, the Luxembourg Prime Minister expressed his disappointment that the deadline of 2050 for a carbon-neutral economy was not explicitly retained.
At the end of the meeting, Xavier Bettel commented: "Luxembourg, like a very large majority of member states, will continue to defend this goal for the UN meeting in September. Because our citizens expect greater ambitions and we take their concerns very seriously. That is why my country, under my government, is still striving to be ambitious with our climate goals".
At the euro area summit held on 21 June 2019, the leaders then gathered to discuss the deepening of the Economic and Monetary Union (EMU). In this regard, they had an exchange on the modalities of a budgetary instrument for the convergence and competitiveness of the euro area, on the amendments to the Treaty establishing the European Stability Mechanism, as well as on the progress made in strengthening the the banking union.
In this regard, Prime Minister Xavier Bettel noted: "I am pleased with the progress that has been made on these issues. There is a theme that forms the thread of our discussions today, namely to ensure the stability and convergence of our euro area and to reduce the risk, indeed prevent, a possible future crisis. These measures allow us to equip ourselves today with adequate mechanisms to ensure the resilience of the euro zone of tomorrow".