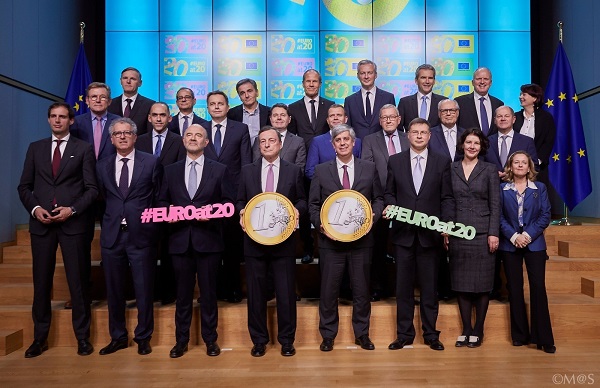 27 EU Member State Finance Ministers; Credit: European commission
An important step in the strengthening of the Economic and Monetary Union (EMU) was reached on Tuesday morning by the Eurogroup which was meeting in Brussels: after 18 hours of tough negotiations, finance ministers agreed on a package of measures to boost the resilience of the euro.
The strength and credibility of the euro area banking system will be enhanced by the introduction of an additional safety net. In the event of a financial crisis, banks in distress will receive additional protection in the form of a credit line that the European Stability Mechanism (ESM) will grant to the Single Resolution Fund.
Luxembourg's Minister of Finance, Pierre Gramegna, commented "Twenty years after the introduction of the single currency, I welcome the progress made in strengthening the European Banking Union in order to further stabilise the European financial system. The completion of the Banking Union decided today contributes to the credibility of the euro and the strength of our financial centre, which also benefits from the triple A rating of Luxembourg."
As regards the taxation of the digital economy, Ministers discussed at Ecofin a new Franco-German proposal aimed at reducing the scope of the directive on the taxation of digital services. According to this proposal, the tax would be limited to online advertising services, and would apply from 2021.
Minister Gramegna emphasised that Luxembourg will proactively contribute to a solution, while insisting on the transitory nature of such a measure, hence the importance of a "sunset clause". It is indeed essential to find an OECD-wide solution as soon as possible, in order to ensure the level playing field, i.e. fair digital taxation that applies to all G20 countries.
Finally, Minister Gramegna met his Belgian counterpart, Johan Van Overtveldt, on the sidelines of Ecofin, to amend certain provisions in the field of Belgian-Luxembourg customs cooperation with a view to strengthening administrative simplification and digitisation of customs procedures.