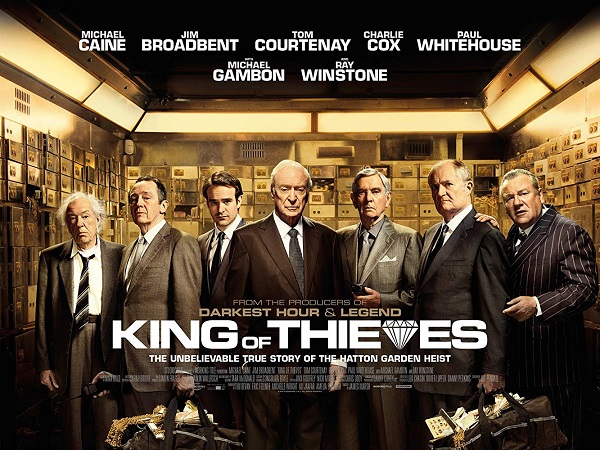 Chronicle.lu, in collaboration with the British & Irish Film Season (BIFS) - which is celebrating its 10th anniversary this year - are offering five FREE pairs of tickets to the St George's Screening of Michael Caine's new film "King of Thieves", on Wednesday 24 April at 20:30 at the Cinémathèque (7 Place du Théâtre, L-2613 Luxembourg-ville); to win your FREE tickets, see below.
The film being screened is "King of Thieves", a crime thriller directed by James March and starring Michael Caine, Michael Gambon, Jim Broadbent, Ray Winstone, Tom Courtenay & Paul Whitehouse.
Synopsis "Based on infamous true events, a famous thief, Brian Reader (Sir Michael Caine), pulls together a band of misfit / retired criminals to plot the biggest bank heist in British history in London's jewellery district. The thieves manage to escape with allegedly over £200 million worth of stolen jewels and money. When police are called to the scene and the investigation starts, the cracks between the eccentric gang members begin to show as they row over how to share the goods and become increasingly distrustful of each other"
THIS FILM IS NOT SCHEDULED FOR GENERAL RELEASE IN LUXEMBOURG.
This screening is being organised as part of the 10th anniversary of the British & Irish Film Season (BIFS), the main festival of which will be held from 13-22 September 2019.
To apply for your FREE tickets to "King of Thieves" on Wednesday 24 April at 20:30, please enter below (requires registration & log-in). Please enter your gsm/mobile telephone number.
The draw will be made at 12:00 on Wednesday 24 April. Winners will be contacted directly. Winning tickets will be available at the venue on the day.