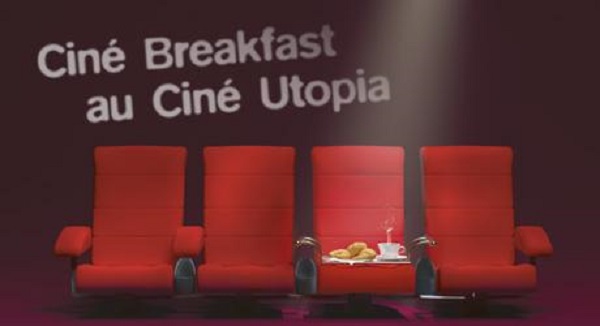 Chronicle.lu, as Media Partner, in association with Kinepolis Luxembourg, is offering 5 pairs of FREE tickets to the Ciné Breakfast that is taking place on Sunday 29 April 2018 at Ciné Utopia in Luxembourg-Limpertsberg. Please see below on how to enter.
The Ciné Breakfast offer comprises five films that are being screened simultaneously at 11:00, with the cinema open from 10:30 for breakfast. The five films include:
- Avengers: Infinity War (in English: action adventure), directed by Anthony Russo, Joe Russo and starring Karen Gillan, Elizabeth Olsen, Tom Holland, Robert Downey Jr., Chris Pratt. Synopsis: The Avengers and their allies must be willing to sacrifice all in an attempt to defeat the powerful Thanos before his blitz of devastation and ruin puts an end to the universe.
- Blue (aka Dolphins; in French: documentary), a Disney nature film directed by Alastair Fothergill, Keith Scholey. Synopsis: Echo is a youngster who can't quite decide if it's time to grow up and take on new responsibilities-or give in to her silly side and just have fun. Dolphin society is tricky, and the coral reef that Echo and his family call home depends on all of its inhabitants to keep it healthy. But Echo has a tough time resisting the many adventures the ocean has to offer.
- L'aventure de la poire géante (aka Mika & Sebastian; in French, animated adventure), directed by Amalie Næsby Fick, Jørgen Lerdam, Philip Einstein Lipski
and starring (the voices of) Alfred Bjerre Larsen, Liva Elvira Magnussen, Peter Frödin. Synopsis: Life in Solby is nice and peaceful until one day Mitcho and Sebastian find a message in a bottle by the harbour. The bottle is from the missing mayor of Solby with a message that he is on a mysterious island and has made a great discovery. Now they must embark on a perilous journey to help save the mayor and bring him home, and in the process they uncover something that will bring great pleasure to the city of Solby - a giant pear.
- Foxtrot (in Hebrew with sub-titles in FR & NL; drama), directed by Samuel Maoz and starring Lior Ashkenazi, Sarah Adler, Yonaton Shiray. Synopsis: A troubled family must face the facts when something goes terribly wrong at their son's desolate military post.
- Transit (in German, drama), directed by Christian Petzold and starring Franz Rogowski, Paula Beer, Godehard Giese. Synopsis: When a man flees France after the Nazi invasion, he assumes the identity of a dead author whose papers he possesses. Stuck in Marseilles, he meets a young woman desperate to find her missing husband - the very man he's impersonating.
To apply for your FREE tickets to the Ciné Breakfast on Sunday 29 April 2018, please enter below (requires registration & log-in) and state your preferred film to attend and your mobile telephone number. The draw will be made at 18:00 on Thursday 26 April. Winners will be contacted directly. Winning tickets will be available at the venue on the day.