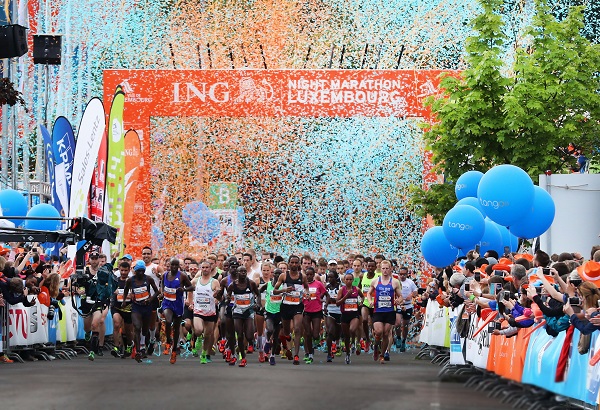 Credit: ING
SPONSORED CONTENT
On Saturday 28 May 2022, the City of Luxembourg will turn orange once again and 12,000 runners will anxiously wait for the starting shot to be fired. Will you be there?
We're back!
After two long years, life is returning to Luxembourg and with it the ING Night Marathon Luxembourg. More than just a sporting event, the ING Marathon is an entertainment programme for the whole family. The 15th edition picks up right where it left off: samba bands, hot air balloons, the LEO light village, the Roll & Run and all five disciplines (marathon, half-marathon, team run, mini-marathon and mini mini-marathon) will be back in the streets of Luxembourg City on Saturday 28 May.
A marathon like no other
If you arrived in Luxembourg after June 2019 you are in for a big surprise! The ING Night Marathon Luxembourg is a big popular festival. Because of the pandemic, you have never seen the city like this. Tens of thousands of spectators line up the streets of Luxembourg as of 19:00 to cheer on their loved ones from Kirchberg to the train station, via Belair, Hollerich and the city centre. Elderly or young, local or foreigner, all dance to the rhythm of the more than 55 samba, reggae and fanfare music highlights along the route. This year, four choirs will delight passersby in Limpertsberg and the Philharmonie has planned an organ marathon!
There are a few other new features this year, like the fact that friends can run alongside a marathon runner with a torch as of kilometer 30. But the crown jewel is without a doubt the indoor finish: a big party to celebrate the brave runners that have completed one of the most demanding urban marathons in Europe.
Save the date
You will not want to miss out on this international, family-friendly, fun event! Come pay us a visit at Place de Paris where we will have games for the little ones while you wait for the "peloton" to pass by. Or to Glacis for the Roll & Run start at 18:00 and to get your (now legendary) ING hat. And later in the evening maybe take the tram up to LuxExpo to applaud the first Luxembourger to finish the race.
Still not convinced? Get ready for some goose bumps: https://youtube.com/shorts/PyM31bPYWa4?feature=share