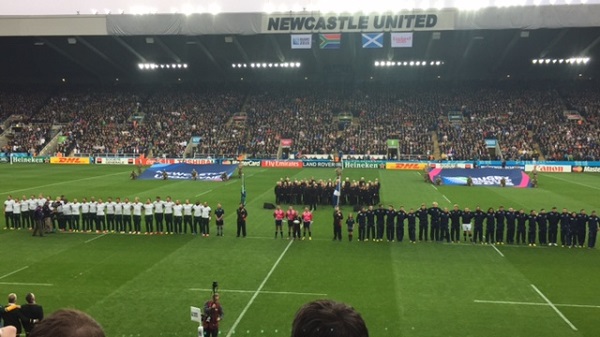 Two weeks on from the opening week-end of the 2015 Rugby World Cup in England and some things are becoming clearer.
New Zealand, while not (yet) playing at the top of their game, are the first side to qualify for the knock-out stage, following their midweek win over a spirited Georgia side. Argentina, as anticipated, will probably also qualify from this pool as the only other side with a mathematical possibility of qualifying, Tonga, have to play the all Blacks. On Sunday, Argentina dispatched a spirited Tonga side with some clinical finishing.
Last week-end's stunning victory by Wales over hosts England really set the cat among the pigeons, with everyone giving their own opinions as to how and why that happened, and what would subsequently play out. With Australia also in this group, and just two qualifying for the quarter-finals, England's match on Saturday evening was in effect a knock-out game; lose and they fail to qualify.
Well, what then transpired was that England's chariot became unstuck against an Australia side under the guidance of the wily Michael Cheika who out-thought his English counterpart Stuart Lancaster. England's decision to change their first-choice out-half mid-tournament did not help their cause, but ultimately their scrum was their biggest handicap. Once a cornerstone of their power play, England's scrum was pushed backwards more often that it moved forwards. Wales and Australia now qualify from this group and meet next week-end to see who tops the group.
This was not before Newcastle, St James' Park to be exact, played host to Scotland and South Africa. In this cauldron of north-east football lore, the wounded Springboks came to right their shock defeat to Japan in the opening week-end. Scotland, meanwhile, have slowly and quietly emerged from the shadows of mediocracy in te last couple of years of the 6 Nations tournament to start on a high, with convincing play, despite the shallow depth of their playing resources.
In Newcastle, this was supposed to be a "home game" for Scotland. What transpired was that there were arguably Springboks' supporters there - they were definitely more vocal. While Scotland rested a few of their best players in a rotation of their squad, South Africa returned to close to their best, despite rumours of discontent in their camp. This was a bruising encounter in which the surface was chewed up every time a scrum was awarded. While Scotland started the second half strongly and gave their supporters some hope with a try 8 minutes after a restart, South Africa came back and ran out worthwhile winners.
Scotland (10 points) still have a banana-skin of a game against Samoa while Japan (8 points) play their remaining game against the USA (pointless). While Scotland should progress, it is utterly conceivable that Japan will win three games and still not qualify for the knock-out phases.
On Sunday, all eyes were then on the Olympic Stadium in London where Ireland and Italy were battling horns. Ireland had started the tournament on a positive note when achieving bonus points in both their matches, against Canada and Romania, when playing attractive, free-flowing rugby. The stakes were upped against a spirited Italian side who had previously injured talisman Sergio Parisse back in the starting line-up. What transpired was en edgy affair with the Irish winning 16-9; they tried running through the Azzuri, they tried chipping over them, they tried up-and-unders and they tried kicking for position, but Parisse's presence revitalised the Italians, but untimately was not enought to secure a win over the Boys in Green.
Ireland and France are both on 14 points and meet next Sunday in Cardiff with the loser probably to play the All Blacks in the quarter-finals. Interestingly, Ireland have the meanest defence of all the teams after 3 games each, having conceded just 26 points.
So, desite the surprises of Japan and, to a lesser extent, Georgia, it looks like Pools B, C and D will see the world rugby order retianed; meanwhile, in Group A, England have suffered the fate of being the only host not to qualify from their group in a Rugby World Cup - with three top teams in their group, three into two would just not go and England were the team to lose out, with Australia and Wales surviving.
One of the best things about the Rugby World Cup, off the pitch at least, is the camaraderie of supporters of opposing teams. Two weeks ago it was chaos on the trains between London and Cardiff for the Irish and Canadian supporters, but the two sets of supporters put the logistics nightmare behind them and talked, joked and cajoled throughout their travels. Likewise, on Saturday's train ride from London to Newcastle, those Scotland supporters travelling north for the game mixed and mingled with the South Africa supporters, most already togged out in their team's colours, with some even wearing Spingboks' jerseys on top of their kilts...
To travel to England, fly Luxair to LondonCity airport. See www.luxair.lu.
Tip: Upon arrival at LondonCity Airport, purchase / top-up an Oyster Card for use on the Docklands Light Railway (DLR) and London Underground. For intercity rail travel, book well in advance to get the best deals.
Photos by Geoff Thompson