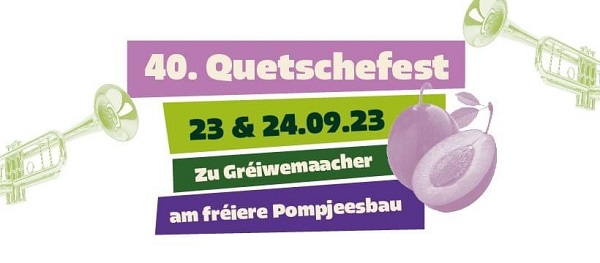 Details:
Grevenmacher will hold its 40th annual Quetsch Festival on Saturday 23 September and Sunday 24 September 2023.
The event is organised by the local volunteer fire brigade (Gréiwemacher Pompjeeen Asbl) at the former fire station (14 Schaffmill, L-6778 Grevenmacher), from 16:00 on Saturday.
In addition to many produce (including tarts and juices) being made from the locally-grown and harvested quetsch (small purple-coloured plums traditionally cultivated in this region), the organisers are planning traditional entrainment, including:
Sat @ 16:00: Opening
Sat @ 18:00: Obermosel 6er Blech (Bohemian Polka)
Sat @ 20:00: Neighborhood (cover band), followed by an Afterwards party with DJ JU
Sun @ 10:00: Inspection of fire extinguishers with PILSA
Sun @ 11:00: Concert Apéro with the Harmonie Municipale Grevenmacher, followed by musical animation with the orchestra Two Man Sound

Food and drink will be on offer from various stands and festival stalls. And there will also be a bouncy castle for children.

Free entry.
For details, see https://grevenmacher.lu/agenda/
Venue: 14 Schaffmill, L-6778 Grevenmacher
Organiser: Gréiwemacher Pompjeeen Asbl
Price: n/a
Reservations: n/a