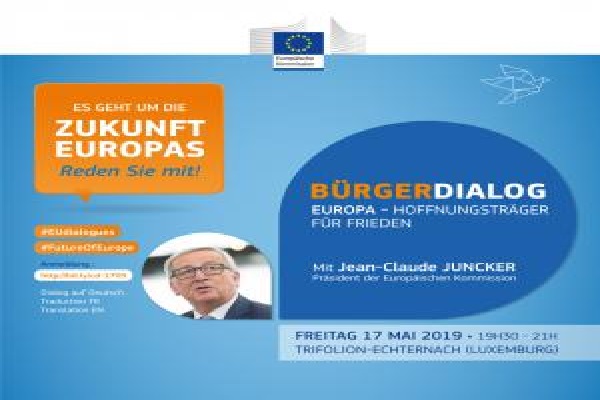 Details:
In the run-up to the European elections, Luxembourg is hosting a series of EU citizen's dialogues, featuring European Commission President Jean-Claude Juncker, Prime Minister Xavier Bettel and diplomat Georges Santer, among others.
On Friday 17 May 2019, there will be a citizen's dialogue with European Commission President and former Luxembourg Prime Minister Jean-Claude Juncker at Trifolion (2 Porte Saint Willibrord) in Echternach, from 19:30.
This debate, held in German with simultaneous translations provided in English and French, will similarly focus on peace in Europe and the future of the EU. It will deal with the issues of rising populism and nationalism as well as the spread of "fake news" and their influence on democracy.
Journalist Udo van Kampen will moderate the debate.
Places are limited and registration is required online at https://bit.ly/cd-1705.
Venue: Trifolion (2 Porte Saint Willibrord, L-6486 Echternach)
Organiser: Representation of the European Commission in Luxembourg; Trifolion Luxembourg
Price: Free
Reservations: See above